Pound stronger as services survey shows faster growth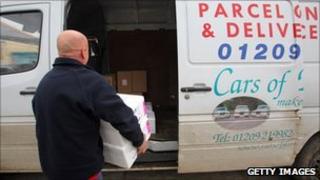 The pound has strengthened against the dollar after figures suggested the UK service sector grew at its fastest pace in more than a year in March.
The Markit/CIPS Purchasing Managers' Index (PMI) rose to 57.1, a "marked improvement" on February's 52.6. A figure above 50 indicates expansion.
The market saw the rise as a sign of economic recovery, raising the prospect of an imminent interest rate rise.
The pound rose by more than a cent against the dollar to $1.6238.
"When you look at where the Bank of England has typically raised interest rates in the past, the average level of the PMI is not that much different to where it stands right now, so it is consistent with higher rates," said Deutsche Bank economist George Buckley.
'Strong expansion'
Markit and the Chartered Institute of Personnel Managers, which compile the index, said growth in new business was the sharpest in a year, while employment levels rose for the first for nine months.
However, they noted that input costs continued to rise at a "marked pace", although companies were, so far, able to minimise their impact on customers by reducing margins rather than increasing prices.
"Services activity growth surprised well to the upside in March, and points to the strongest expansion of the sector since the economy was surging out of its recession early last year," said Paul Smith, Markit's senior economist.
Together with more positive recent data from the manufacturing sector, he said the latest PMI services data suggested overall economic growth of 0.8% in the first quarter of this year.
This compares with a contraction of 0.5% in the final three months of last year, and is slightly more upbeat than the British Chambers of Commerce's forecast of 0.6%-0.7% growth, also released on Tuesday.
'Big surprise'
Analysts were surprised by the strength of the jump in the PMI number.
"It's extraordinarily strong," said Ross Walker at RBS.
"The scale of the improvements suggest there is some genuine underlying recovery."
However, others cautioned against reading too much into the March number given the volatile nature of the PMI services figures.
"This is a big surprise, but it is possible that it is a blip," said Philip Shaw at Investec.
"Essentially most other indicators of service activity in the UK are softer, like the BCC survey, which is suggesting slow to modest growth in the sector."
The PMI survey of the service sector is closely watched as services account for about three-quarters of the UK economy.