Vodafone to pay $5bn to buy out India business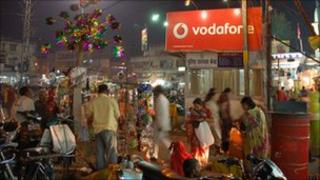 Vodafone is to pay its local partner, Essar Group, $5bn (£3.1bn) to buy them out of their Indian joint venture.
The phone giant's decision to exercise its option to purchase Essar's 33% stake was widely expected.
It leaves Vodafone holding 75% of the business, giving it a majority stake for the first time, although Indian foreign ownership rules will force the UK firm to reduce that to 74%.
It also ends a relationship with Essar that had become increasingly strained.
The two firms had clashed publicly over plans by Essar to reorganise its ownership of the Indian business in a way that Vodafone claimed would not value the company correctly.
Vodafone has faced a string of problems since entering the Indian market in 2007, including a £2.3bn write-down - 25% of the business's value - due to rising spectrum costs, and a disputed $2.5bn tax bill from the Indian authorities.
The buyout will be completed by November, according to a statement on Vodafone's website.
The company will need to reduce its stake before then, in order to comply with Indian rules, and may do so via a partial stock flotation.