Sri Lankan adventures to lure tourists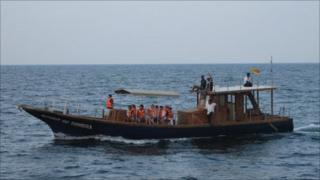 Adventure and nature tourism, such as whale and dolphin watching, is central to Sri Lankan plans to recover after decades of bloody conflict.
The sea off Mirissa harbour, in Matara district, is among the best place to watch the sea mammals, according to AH Deepika Kumari, managing director of Mirrisa Water Sports, a company that organises whale watching trips in southern Sri Lanka.
And the best period for frequent sighting of blue and sperm whales is between November and April.
Massive interest from tourists has created a small economic boom, she says.
"The local people were indifferent to us when we started our venture in 2005," she recalls.
"But with the company's success, many locals started to show an interest.
"Now, some have put up similar businesses. A host of tourism businesses has created a number of jobs for the local community."
Helicopter demand soars
In the past, Sri Lankan tourist authorities used to work hard to attract foreigners to its beautiful beaches and forests in the south and in the central regions of the country.
With the end of the war, vast areas of the north and east still remain out of bounds for the foreign tourists, however, though they may open up in the coming years.
But for that to happen, government needs to invest a lot in improving the road and public transport infrastructure.
Companies that operate domestic helicopter flights, meanwhile, have reported a significant increase in their operations, especially flights to tourist destinations such as Arugam Bay and Trincomalee in the east.
Arugam Bay, a popular surfing destination, recently played host to its first international surfing championship.
Waste dumps
Other areas where improvements are needed should be easier to improve, according to Ajith Nanayakkara, the co-owner of the Time N Tide Beach Resort in Hikkaduwa.
"Our attitude on hygiene is a serious concern," he says.
"We are not yet able to present a clean environment to the visitors.
"Take for example our beaches. You would find a lot of plastic rubbish, waste paper, tissues and even broken bottles. We need to change the habit of dumping the waste in the public spots."
Economic development minister, Basil Rajapaksa, insists the situation is improving, however.
"You might have noticed that the places where rubbish has been piled along the road from the main airport to the Colombo city has been drastically reduced," he says.
Even in the capital Colombo used to have many places with piles of rubbish, but those are gradually being removed, the minister insists.
Moreover, the government, together with the local people and councils, has recently launched a month-long beach conservation project, he says.
Mr Nanayakkara acknowledges that he is getting more bookings, but he wants the government to implement a well thought out long-term plan.
"We need a ferry service to neighbouring India and Maldives," he says. "A budget airline will also help."
Government levy
Some experts feel it would be better for Sri Lanka to focus on fewer rich tourists rather than being obsessed with increasing tourist numbers.
At the same time, massive fluctuations in hotel rents have triggered some concerns.
Some say pricey rooms will have a negative impact on Sri Lanka in the long run, as Western tourists have the choice of other attractive destinations such as Malaysia, Thailand or Indonesia.
The Sri Lankan government has recently introduced a 20% levy on five star hotels that do not charge in excess of $120 per night for double rooms.
The measure has created some difficulties in the short term as the rooms have already been booked for 2011, says Dineli Peiris, manager of the Blue Water five-star beach hotel in Wadduwa, some 35km south of Colombo.
"We referred the matter to the president and sincerely hope he will take some remedial action," she says.
Blue Water has always enjoyed strong demand, even during the height of the hostilities, she says, especially as it is situated far away from the battlegrounds.
Sri Lanka's reputation
But the government defends its move.
"We do not want to be seen as a cheap tourist destination, and we have no competition with any other country," says minister Basil Rajapaksa.
Moreover, he says, no true five star hotel would sell their rooms at a very cheap rate.
"What might be happening is, the tourists are paying a higher price for a tour package at the other end, but that money doesn't come to Sri Lanka," he says.
"There is no point of merely increasing the amount of tourists. And if Sri Lanka gets a reputation as a cheap destination, bigger hotel groups would not come to invest in Sri Lanka."
Perhaps it is that reputation that attracted Shangri-La, one of the biggest Hong Kong-based leisure groups.
The group is about to set up Colombo's first seven- star hotel and is investing $500m in the 500 room project.