The twist in the tale of rising cotton prices
5 December 2010

From the section

Business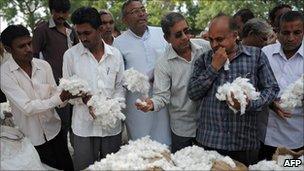 The price of raw cotton has soared by 50% in a year, mainly because demand far outstrips supply.
It has far-reaching global effects, bringing better times for some cotton farmers but a squeeze on manufacturers - threatening thousands of jobs in the garment industry.
"The rise in price is due to the growing need in the world market, at a time when Chinese and American reserves are low," explains Adam Nashiru, president of the Peasant Farmers' Association in Ghana.
"Every day we get calls from all over the world asking to buy cotton," he says, "and that has led to growth in government support in the sector."
In contrast, higher prices are causing misery among garment manufacturers, who are caught between higher raw material costs and pressure from the global fashion industry to keep the costs of production low.
Fortune smiles
The steep rise in prices has created both dismay and celebration.
It has been welcomed in Africa, where it is hoped farmers will return to growing more cotton after the bad years of low prices and falling production.
"This is an advantage to us. The prices we have negotiated with the cotton ginneries are fantastic," says Mr Nashiru.
"Many more farmers are now turning to growing cotton. In some regions of Ghana, cotton is the only foreign exchange earner and 45% of people in those regions are engaged in the production of cotton," he explains.
But in a world where markets are volatile, there are concerns that investing to produce cotton might not be such a wise idea if the price goes down.
"I am convinced that the situation will remain like this for another five or six years," Mr Nashiu says, "I went to China and saw that it will take time to replenish their stocks."
He says that he had Chinese buyers offering any price for all the cotton the farmers in Ghana could produce.
"All over the world, business tycoons are getting involved with cotton and we need to take advantage of that," he adds.
Fears over jobs
One country's blessing is another country's curse, however.
There have been recent reports from Pakistan that factories have shut and workers have been laid off, while in China, the surge in prices has pushed many Chinese textile companies to the brink of bankruptcy.
Bangladesh has 4,000 garment factories which export goods to companies such as Wal-Mart, Gap and Levi Strauss.
Its workers are among some of the lowest-paid in the world and the cotton price is threatening the security of their jobs.
Anisul Huq, president of the South Asia Chambers of Commerce, who runs two garment factories in Bangladesh, says the rise in the price of cotton over the past three months has totally shaken the industry.
"Manufacturers in garment factories negotiate deals three months in advance, so when prices suddenly change, it completely shakes the market," he says.
"Two months ago, I negotiated a polo shirt. I took the fabric price at $1, but when I went to the market to buy the yarn, the price had increased by 45-50%," he laments.
He maintains that everybody from the manufacturer to the customer is faced with a problem and it is jeopardising profits.
"We are telling customers, the big brands who order from us, that they will have to change the price for production, but that is not easy because they have also costed and fixed a final price," Mr Huq says.
"We are negotiating prices which are only valid for 24 or 48 hours. If a deal is agreed, I buy the fabric the next morning."
Bangladesh is particularly hard hit, because it does not grow cotton and has to import it.
Some smaller manufacturers are being compelled to close, at least for the time being.
That will also be reflected in exports, so the anticipated growth of 17-18% for 2010 may not materialise.
Mr Huq believes that will have a multiple effect, not only on profitability, but also in a lot of other areas.
Historical cloth
There is evidence that the soft and fluffy cotton fibre was grown, spun and woven into cloth at least 5,000 years ago.
But it was the Industrial Revolution in England, and the invention of the modern mechanical cotton gin in the US, that really gave the commodity a boost.
This mechanisation enabled the mass production of cotton - and within 10 years, the American crop rose in value from $150,000 to $8m.
The increase in production also brought a significant rise in slavery.
Before the cotton gin was invented, there were about 700,000 slaves in the Southern US states. By 1850, there were nearly 3.5 million - and slavery had enabled US cotton producers to undercut prices from elsewhere in the world.
By the time of the American Civil War in the 1860s, the South supplied two-thirds of the world's total cotton.
Today, most of it is grown in the US, Pakistan, Uzbekistan, China and India, although it is also produced in 85 other countries.
The world market in cotton is worth around $12bn a year and over the past 30 years, Africa's slice of that market has doubled.
Cotton was the most widely used natural fibre of the last century and, even though synthetic alternatives have been created, its popularity looks set to continue.