EU denies Portugal in line for aid package
26 November 2010

From the section

Business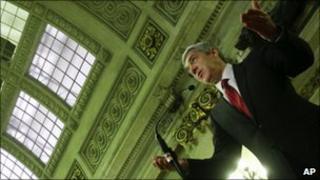 European Commission President Jose Manuel Barroso has dismissed reports that Portugal is next in line for a financial rescue package.
Mr Barroso said the reports were "absolutely false, completely false". The Portuguese government has made similar denials.
Speculation that Portugal would follow the Irish Republic in asking for help has been rising this week.
Portugal approved its 2011 budget on Friday, which aims to cut its debts.
Prime Minister Jose Socrates said his country had "all the conditions" in place to finance itself on the markets, and that he expected the budget's approval to restore market confidence.
'No alternative'
The budget seeks to cut the country's deficit from 7.3% of economic output this year to 4.6% in 2011.
Under the measures in the budget, public spending will be cut and VAT increased to a maximum rate of 23%.
Mr Socrates said the country had "no alternative at all" to cutting its budget. "We must make this effort," he said.
His Spanish counterpart Jose Luis Rodriguez Zapatero has also moved to dismiss speculation that his country may be forced to seek EU aid.
He said he ruled out "absolutely" any bail-out of Spain.
"I am not delivering a message of confidence just because I want to, but because of concrete facts," he said.
Under pressure
The euro has fallen sharply on fears that the problems experienced by the Irish Republic could spread to other countries in the eurozone.
The euro fell one cent against the dollar to $1.3244 on Friday. It has now fallen by almost four cents, or 3%, this week.
A report in the Financial Times Deutschland suggested that some eurozone countries and the European Central Bank were putting pressure on Portugal to ask for financial assistance.
However, the Portuguese government said the reports were "completely false".
'Obscure comments'
Germany's Finance Minister Wolfgang Schaeuble has also dismissed reports, and comments from the country's own central bank head, that the European Union's bail-out fund could be increased.
He called such reports "completely over the top" and said there were no plans to commit more money to the fund.
"At the moment we have a rather nervous situation because there is an incredible amount of speculation, with completely obscure comments suddenly taking on meaning and unsettling markets," he said.
On Thursday, German central bank boss Axel Weber said the bail-out fund could be increased in size by a further 100bn euros ($134bn, £85bn) if needed. It currently stands at 440bn euros.
Budget cuts
This week's fall in the euro was triggered by the Irish Republic's request for financial assistance last weekend.
It is currently negotiating with the European Union (EU) and the International Monetary Fund (IMF) over a rescue package expected to amount to 85bn euros.
The Republic will be the second eurozone economy to be rescued, after Greece was granted a 110bn-euro bail-out over the summer.
In order to tackle its high budget deficit, and meet conditions of any loan package, the Irish government unveiled a tough recovery plan on Wednesday, designed to save 15bn euros over the next four years.
Investor confidence
However, there are doubts about whether the measures will be passed when parliament votes on the budget next month.
And the Irish government suffered a blow when its majority in parliament was cut to just two after it was confirmed that Sinn Fein had won the Donegal by-election.
Also on Friday, ratings agency Standard & Poor's downgraded some of the Republic's top banks.
It downgraded Anglo Irish Bank by six notches, and Bank of Ireland and Allied Irish Banks by one notch.
The proposed cuts and the impending EU/IMF bail-out have failed to calm investors' fears that the Irish debt crisis could spread to other countries with high budget deficits, particularly Portugal and Spain.
As well as a weakening euro, government bond yields in the Republic, Portugal and Spain have risen this week, and edged higher again on Friday.
Increasing bond yields reflect waning confidence in a government's ability to repay its debts.