Cable says banks may still face UK bonus regulations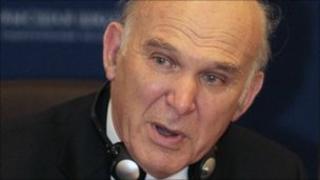 Vince Cable has said that controlling bank bonuses will "almost certainly" have to be done through both international and domestic regulation.
The business secretary's comments appear to be at odds with the government's decision to leave such regulation to the international sphere.
David Cameron confirmed this earlier this week when he said the government had shelved plans to force UK banks to disclose senior remuneration levels.
Mr Cable said disclosure was vital.
Speaking to BBC Radio 4's Today programme, he said the potential scale of 2010 bank bonuses remained "of considerable concern to the government".
He added: "I've launched a consultation in my own department on corporate governance that takes in issues of remuneration and disclosure, and it may well be that that's a better way of tackling it.
"I wouldn't just cover banks, but highly paid executives in general. But we have to have a system whereby executive pay is available to shareholders so they can make proper decisions from it."
This consultation is due to be completed by mid-January.
Mr Cable said he was "not persuaded" that banks realised they needed to limit bonuses, saying excessive remuneration in the sector remained a "major irritant".
He added that if the banks gave out substantial bonuses at a time when the wider population faces the impact of austerity measures, it would be a "major provocation", and that the government had the power of raising taxation to deal with the matter.
The former Labour government had prepared draft legislation which would have forced banks to disclose the pay packages of its senior staff, but this has since been shelved by the coalition.
The Treasury says Chancellor George Osborne will write to European Union finance ministers, to press for a Europe-wide bank pay disclosure regime.