US firm 'possible bidder' for CSC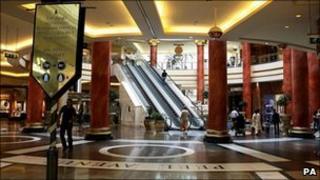 Capital Shopping Centres' (CSC) plan to buy a UK shopping mall has led to US shareholder Simon Property revealing itself as a possible bidder for CSC.
CSC said it had received a letter from Simon Property, which holds 5.6% of its shares, regarding CSC's £1.6bn plan to buy Manchester's Trafford Centre.
The US firm asked it not to proceed any further with the deal until it could present a potential cash offer for CSC.
But CSC said it would proceed with the Trafford deal.
"The letter did not contain any offer or indicative offer, nor provide any certainty that an offer would be made," CSC said in a statement.
"The board of CSC has concluded that it is not in shareholders' interests to delay the placing and has determined to proceed with the acquisition and placing."
Shares in CSC rose 14.5% to 386.3p.