HSBC sees profits double to $11bn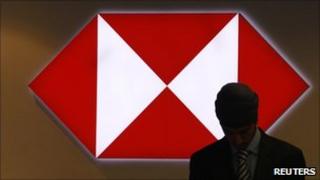 The UK's biggest bank HSBC has reported pre-tax profits of $11.1bn (£7bn) for the first six months of 2010 - more than double its profits for the same time last year.
The bank said it was profitable in every region, except for North America where it saw losses of $80m.
In the UK, profits totalled $2.1bn - a rise of 26%.
The UK's other major banks Lloyds, Barclays and RBS are due to report their results later this week.
In a sign of the improving conditions in the banking sector, it said the amount of money set aside to cover bad loans had fallen to $7.5bn - the lowest level since the financial crisis began in 2008.
Business lending
Unlike Lloyds and RBS, HSBC survived the financial crisis without receiving direct government support.
But the Chancellor George Osborne yesterday added to calls for banks to lend more to businesses in order to sustain the economic recovery.
HSBC chief executive Michael Geoghegan said his bank had seen the appetite for credit grow steadily over the first half of the year, especially among business customers.
"This is now feeding through into lending growth, a trend we expect to continue," he said.
Globally, the bank said it increased lending by 4% compared with the second half of 2009, with Asia seeing a 15% growth in lending.
In the UK, mortgage lending totalled £5.1bn for the first half of the year, HSBC said, while the bank added about £1.4bn in new loans to small and medium-sized businesses (SMEs).
However on a net basis, which takes into account existing loans being paid back and is considered a more significant measure, HSBC's lending to small businesses in the UK fell by 2%.
Angela Knight, chief executive of the British Bankers' Association (BBA), defended UK banks' record on business lending.
"85% to 90% of requests for loans are being granted [and] the numbers show that borrowing is increasing," she told BBC News, referring to the situation across the industry.
But she added that "not everyone who wants credit will get it because there are people who should not be borrowing".
Stephen Alambritis from the Federation of Small Businesses (FSB) said SMEs had seen a continual decline in lending from the UK's "big four" banks.
Lending, he said, was now at the rate of £500m a month - down from the £900m a month seen in 2008.
Investors optimistic
HSBC's Tier 1 ratio - which shows how much cash the bank is keeping in reserve and is an indication of its financial stability - was also up to 11.5%, well above its target range.
Investment banking delivered just over half the $11.1bn profits.
Last Updated at 17 Jan 2018, 09:25 GMT
*Chart shows local time
price
change
%
791.70 p

-

-1.30

-

-0.16
Banking analysts broadly welcomed the results, however, with the headline profit figure ahead of most expectations.
But some warned that the recovery in the US business would still depend on the continued recovery in the US housing market.
"The headline numbers look good, with a doubling of profits, but that's because last year was just a terrible year for everyone," said Francis Lun, from Fulbright Securities in Hong Kong.
"The numbers are not even back to 2008 or even 2005 levels yet."
In a conference call with investors, chief executive Michael Geoghegan stressed that emerging markets were the focus for the bank, which stations many of its senior staff in Hong Kong.
China and India were particularly important markets for the future growth of the bank, Mr Geoghegan said.
Hong Kong and the Asia-Pacific region accounted for 53% of HSBC's profits in the first half of the year.
In London, investors reacted positively to the results with HSBC shares closing up by more than 5%.
Other banking stocks also benefited, with Barclays up nearly 3%, and Lloyds and RBS up by 3.88% and 4.28% respectively.