Bad weather in Gulf could threaten BP oil spill site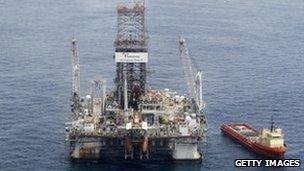 Experts are considering whether a possible tropical storm could disrupt work at the site of the BP oil spill.
If bad weather over the Caribbean strengthens and then moves to the site in the Gulf of Mexico, ships will have to be withdrawn.
It could mean no work on the relief well for up to two weeks.
A final piece of casing needs to be cemented in place at the bottom of the relief well before it can then drill into the damaged well.
Once the casing is in place, engineers could begin the last drilling within five to seven days and then "kill" the well with mud and cement.
There is a 50% chance that a weather pattern currently over the island of Hispaniola will turn into a cyclone by Friday, the National Hurricane Center says. It is currently moving west-northwest.
A reconnaissance flight is to be carried out on Thursday.
Adm Thad Allen, the US official in charge of the spill response, said the decision whether to order ships out of the area would be a "judgment call" based on how the storm developed.
Shell Oil has already begun to evacuate employees stationed out in the Gulf.
Senior BP executive Kent Wells said the relief well currently had a plug in it below the surface in anticipation of bad weather.
"What we didn't want is to be in the middle of an operation and potentially put the relief well at risk," Mr Wells said.
If the weather holds, a "static" kill - pumping mud into the top of the well through the new cap - could be done as an intermediate measure. BP and government experts are deciding whether this will take place.
BP would need a weather window of two to four days to place the final bit of casing, cement it and then carry out the static kill operation, Mr Wells said.
Clean-up cost
The cap applied last Thursday stopped oil leaking from the well for the first time since the explosion aboard the Deepwater Horizon drilling rig on 20 April.
Eleven workers on the BP-leased rig were killed and the oil caused one of America's worst environmental disasters.
The well is currently shut for an integrity test, to see if there are any ruptures beneath the surface.
Adm Allen said BP and the government were still considering whether the well would be left shut or opened in the event that bad weather forced all the ships away from the site.
Vast amounts of oil have entered the Gulf and BP says the cost of dealing with the spill has now reached nearly $4bn (£2.6bn).
BP has moved to sell assets in Texas, Canada and Egypt in order to meet part of the clean-up bill.