Election 2015: Who won the interview contest on social media?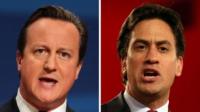 The first big set piece of the general election campaign generated tens of thousands of tweets under just one hashtag - but what do the numbers mean?
#BattleForNumber10 shot to the top of Twitter's list of UK and worldwide trends just as Thursday's duelling interview session began, and by the time the broadcast ended more than 260,000 points, zingers, hastily Photoshopped memes and wry observations had been posted - with similarly big numbers under related hashtags.
The Prime Minister went first and as he faced a typical Jeremy Paxman grilling about everything from zero-hours contracts to his friendship with Jeremy Clarkson, many commenters wondered whether he might have been better off debating his opposite number.
The Centre for the Analysis of Social Media at think tank Demos, Ipsos Mori and the University of Sussex ran an online tracker during the debate, separating tweets into cheers and boos and scoring the candidates accordingly. By that measure, David Cameron's ratings plummeted at the start before recovering somewhat during the audience questioning.
Ed Miliband, who faced audience questioning first, traced a somewhat better trend line while answering questions about economic policy and Labour's previous performance in government - he ended the debate with cheers outweighing boos 53-47.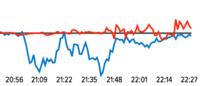 Read full article Election 2015: Who won the interview contest on social media?