'God forgot Afghanistan'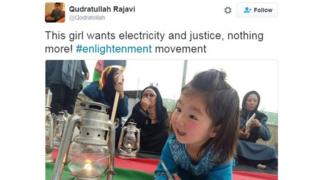 In the early hours of Friday morning, the hashtag #enlightenment began trending in Afghanistan and briefly in Pakistan. It quickly gained traction, and at the time of writing, more than 380,000 tweets had been sent out using the tag. Tragic events in Afghanistan's capital Kabul, from the previous week, had spilled over into social media.
"Enlightenment" refers to the Hazara Enlightenment Movement. They represent Afghanistan's third-largest ethnic group. They practise Shia Islam, in predominantly Sunni Afghanistan and Pakistan.
On Saturday 16 July, 80 people were killed and about 230 wounded by a double suicide attack on marchers in Kabul. The majority of them were from the country's Shia ethnic Hazara minority. The protest, which was described by the White House as "peaceful", was over a new power line, which many members of the Hazara minority said bypassed provinces where they lived.
Some tweets reflected the violence of last Saturday.
While others felt the conversation had to be widened to the rights of the Hazara group.