'Armani Communist' divides China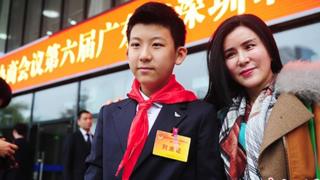 When Liu Bo attended a regional communist party event as the official ambassador of local students it wasn't his youthful demeanour which made the biggest impression.
Nor was it the remarks which the 14-year-old made to the Shenzhen People's Political Consultative Conference, calling for the greater use of non-exam based assessments in the Chinese education system.
What made people stare, and what rapidly become a major topic of conversation as photos of Liu spread across Chinese social media this week, was what he was wearing.
Around his neck was a red scarf of the type worn by Chairman Mao's Red Guards during the Cultural Revolution and now standard issue wear for the Communist Party Youth League. But Liu had paired that with what was taken to be an Armani suit, because of the lapel badge he was wearing with the distinctive logo of the Italian luxury brand.
In the eyes of many Chinese observers this was not so much a wardrobe malfunction as a clash of ideologies in a single outfit. Some on China's micro blogging platform Weibo dubbed Liu the "Armani Youngster" and attacked his choice of clothing.