Troll or hero? The sex blogger who's offending Muslims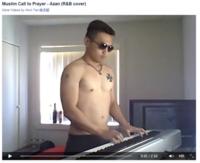 Sex blogger, agent provocateur, trouble-maker - or freedom of speech activist?
These are all phrases that one of Malaysia's most infamous bloggers, Alvin Tan, uses to describe himself. He has a history of posts that have been highly divisive in the Muslim majority nation, and his latest stunt has involved once again offending Muslim sensibilities with a controversial Facebook post.
In the video, Tan, bare-chested and wearing sunglasses, plays the piano while singing a lyrically garbled version of the Azan - the Muslim call to prayer. Underneath the video, he has written: "Please don't badger me about the wrong lyrics ... First, this is a cover, so creative modification is permitted. Second, I ain't a suicide bomber."
It's been watched more than 400,000 times and, as might be expected, it has prompted extremely strong reactions, especially from Muslims. "Alvin Tan, shame on you!" one commented. "This is one of the [most] terrible insults I ever seen," another said. "Disgusting." Others, though were more complimentary. "Good effort … I'm Muslim & I'm not angry," read one comment. "One day you will be one of of us, brother."
Tan's posts expose the running debate in Malaysia about religion. About 60 percent of Malaysians are Muslim, mostly from the Malay ethnic group. But it's a multi-ethnic and multi-faith country, with significant Buddhist, Christian and Hindu minorities. More than a fifth of Malaysians are, like Tan, of Chinese ancestry. He justifies his statements by claiming to stand up for secular, liberal values - and says the fact he's been arrested for what he's posted shows how Malaysia doesn't guarantee freedom of speech.
Read full article Troll or hero? The sex blogger who's offending Muslims