Only men at your event? This blog will shame you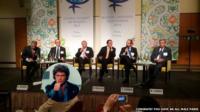 How often have you looked around at a meeting or in the office, lecture hall or event space and seen a room full of just men?
Now one website is pointing out this phenomenon by publishing photos of all-male panels, or "manels". The site is a Tumblr blog, sarcastically called, Congrats! You Have an All-Male Panel.
It started in February and features 200 photos, submitted from people from about 10 countries. The simple but now-viral idea is a project of the Finnish feminist researcher and artist Saara Sarma, who specializes in internet parody images and memes.
Whether it's a Global Summit of Women with only men on the panel or back-to-back male panels in conferences, the images on the site bring home the message that gender equality among rostrums of leaders or experts is in short supply.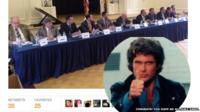 The blog has over 5,000 followers on Tumblr. The site has been shared on Twitter more than 6,000 times and been liked or shared on Facebook over 60,000 times.
Read full article Only men at your event? This blog will shame you