Why do disabled people feel ignored when it comes to voting?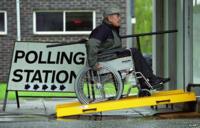 Too many disabled people are being denied the right to an independent and private vote, charities say. So what are the issues and who is it affecting?
At the European and council elections last May, Adam Lotun, who uses a wheelchair, went to his local polling station at a community centre in Tolworth, Surrey to cast his vote. He followed the access signs to a ramped entrance but when he got to the door there was a three inch drop and no space to turn his wheelchair around.
"It was the first year I had gone to vote since becoming a wheelchair user," he explains, "and I couldn't even access the building. I was left feeling like a second rate citizen."
The residing officers offered to bring the paper out to him, but as they were on a busy road with people walking past, he felt too uncomfortable to vote. "I wanted it to be private, and they weren't offering me that," he says.
Lotun is not the only disabled person who has experienced problems with the voting system. After the last general election in 2010, Scope ran a campaign called Polls Apart which surveyed disabled voters at almost 1,000 polling stations across the UK. They found that 67% had one or more barriers to voting including no accessible booths and a lack of hearing loops for deaf people.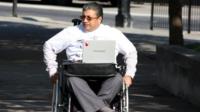 Read full article Why do disabled people feel ignored when it comes to voting?