Why I came out as a disabled journalist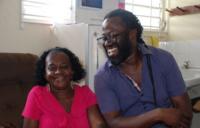 As a journalist, I've run away from gunfire, I've clambered over earthquake rubble and I've even managed to make it up a few red carpets.
But I've kept my disability quiet for so long that even writing this feels as if I'm coming out of the closet - until now I've always been worried about what people might think.
I was born with bilateral talipes - my mum, a nurse, insisted as a child I use the full medical terminology. To the average person in the street that meant nothing, so I'd have to say clubfeet and then show them the scars. Nowadays I never really notice the difference until I see new-born babies with their unblemished little feet which bear no resemblance to my own.
I've learnt to accept the constant aches in my legs and ankles which, I guess, people call "pain management". Thankfully I live in a hot country because my arthritis - an unfortunate side effect of a series of operations to straighten my feet - isn't so bad in the Caribbean sun.
The thing about an unseen disability is that it allows you to hear and experience certain things that people would stifle had the disability been more obvious.