Weekend edition: The best of the week's reads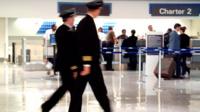 A collection of some of the best reads from the BBC News website this week, with an injection of your comments.
Crash investigators say that Germanwings flight 4U9525 was probably crashed deliberately by its co-pilot Andreas Lubitz. The inexplicable nature of Lubitz's actions raised the question of how pilots are mentally assessed. Rookie pilots are not psychologically tested at flight schools in the UK. Once at an airline they are subject to a medical every year (for older pilots every six months). Tristan Loraine, a former BA captain, says he was never psychological profiled during his career. "The medical was having an ECG, peeing in a bottle, having a blood test and all that." But Prof Robert Bor, author of Aviation Mental Health, argued that testing can only get you so far. Observing people's behaviour is more telling, and pilots are under close scrutiny from colleagues. And extreme cases like this - while rare - can never be totally prevented. The Magazine also looked at the initial lines of inquiry after the crash. And how stringent cockpit security procedures allowed Lubitz to lock out the pilot.
Read full article Weekend edition: The best of the week's reads