Germany struggles with Armenia genocide debate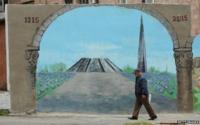 The Pope has spoken of it; the European and French parliaments have voted on it. And, of course, Kim Kardashian, has had her say too.
Now Germany's government looks set to condemn as genocide the mass killing of Armenians by Ottoman Turks 100 years ago. In some ways.
On Friday, parliamentarians in Berlin will debate a motion on the 1915 massacres, in which hundreds of thousands of people died.
But instead of a clear statement of condemnation, politicians will discuss an opaque, tortuously-worded sentence, which aims to be unclear enough to keep everyone happy - with the sort of convoluted phrasing that the German language is so good at.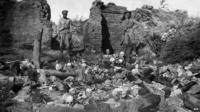 Roughly translated, politicians will debate whether the fate of the Armenians "exemplifies" the 20th Century's terrible history of mass killings, ethnic cleansing, expulsions and genocides.
Read full article Germany struggles with Armenia genocide debate