China's stock market and the rise of the 'pyjama traders'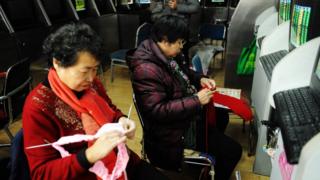 China's volatile shares have affected millions of individuals - the shop owners, pensioners and other small traders, who make up 80% of China's investors. How have China's stock exchanges come to be dominated by "traders in pyjamas"?
When my Aunt Jin retired from her sedentary office job at the age of 55 several years ago, she spent some time wondering what to do with her golden years. She started by going dancing with her old friends from work but then she moved away from her old apartment and gradually that hobby fizzled out.
Thankfully my outgoing aunt never keeps still for very long - she's always got a new interest bubbling away.
Shortly after hanging up her dancing shoes she found a new pastime. She started watching various TV talk shows that teach old-timers how to become rich.
'Self-made billionaires'
You can see the attraction. These shows are usually fronted by pundits dressed as sophisticated self-made billionaires - a bit like a TV version of the book Rich Dad, Poor Dad.
Read full article China's stock market and the rise of the 'pyjama traders'