When China woke up to Wham!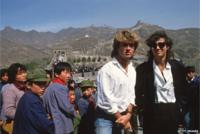 Everyone who went to see Wham! perform in China in 1985 seems to remember the same details: the dazzling lights, the overwhelming wave of noise when the music began, and the outfits worn by the duo, George Michael and Andrew Ridgeley.
In 1985, China was just opening up to the outside world following the tumultuous Cultural Revolution.
At the same time, Wham! were eager to prove that they were the world's biggest pop band. A concert in China was just the ticket.
The duo's manager, Simon Napier-Bell, tried to convince various Chinese officials over lunch that the concert tour was a good idea.
His successful sales pitch hinged on how China would appear to the outside world if George Michael and Andrew Ridgeley were allowed to play. Wham!'s presence would be proof, Mr Napier-Bell reasoned, of the Communist Party's desire to welcome foreigners, and much-needed foreign investment.