China's Ili Pika: The 'magic bunny' goes viral
Everyone on social media is talking about China's "magic bunny", the cutest endangered animal that you have never heard of.
Sixty-year-old retired conservationist Li Weidong has been on a mission for over 30 years to document and protect the highly-endangered Ili Pika - a mysterious rabbit-like mammal only found in China. With less than 1,000 left they are now rarer than pandas.
Mr Li first spotted the "magic bunny" in 1983.
He remembers his first encounter vividly. "I had been climbing a mountain for four hours, and was just catching my breath, when suddenly, I saw the shadow of a small creature running by."
"I sat down next to some rocks, and suddenly two bunny ears emerged from the crack of one of the rocks. The little thing was staring at me, blinking at me. I thought it was the most beautiful and bizarre creature I'd ever seen. I couldn't believe my eyes."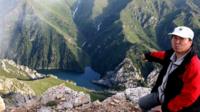 Read full article China's Ili Pika: The 'magic bunny' goes viral