Gay woman challenges Hong Kong in landmark trial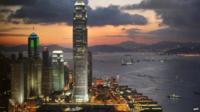 Hong Kong bills itself as Asia's World City, a cutting-edge metropolis that effortlessly fuses the traditional and the modern.
But on the subject of rights for sexual minorities, gay rights activists say the city is firmly stuck in the past.
On Thursday, the High Court will hear a landmark judicial review challenge by QT, a British lesbian woman in her 40s, who is accusing the Immigration Department of discrimination.
She moved to Hong Kong in 2011 when her partner, named as SS in court documents, accepted a plum technology job with a global company.
The couple, who cannot be identified for legal reasons, had just entered into a civil partnership in the UK after more than seven years together, giving them rights similar to married couples.
Read full article Gay woman challenges Hong Kong in landmark trial