Will China's new food safety rules work?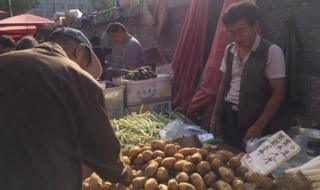 The harvest has come early to a small organic farm just outside Beijing. Workers can only manage a brief smile and a glance upwards as they place vegetables into boxes bound for market.
Standing in the background is Liu Yujing. She sticks out as the only one not covered in dirt. That's because she's just here to watch. She runs an organics delivery business that buys vegetables from this farm and others. Ms Liu started her company with other concerned parents, not for profit, but out of fear.
"In the very beginning, I just wanted to find safe food for my daughter," she explains. "Other mums and I read books on food safety issues. We realised how serious the problems were and decided to do something ourselves."
Ms Liu admits that her delivery service, the Green League, has fought an uphill battle to find farmers willing to use organic methods. And also, to locate customers willing to pay more for clean food.
'Decades-old frozen meat'
"When we started in 2010, many consumers didn't know what organic meant," Ms Liu explains. "They asked me, is organic a type of chemical? Now, they know. More and more people are promoting this concept."