Filipino TV host offends with Arab Halloween outfit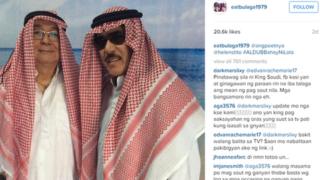 Halloween is a day when people around the world usually dress up in scary or outrageous outfits. Most dress as Dracula, Jack the Ripper, or maybe a witch or some other scary character. But one TV presenter and his guest in the Philippines presented a Halloween special dressed in traditional Arab attire, sparking outrage online.
During a special edition of the hit Filipino TV show "Eat Bulaga" - a successful daytime variety show made famous around the world by the story of the couple Aldub - host Joey de Leon and Filipino senator Tito Sotto dressed up in thobes, ankle-length robes often worn by Arab Muslims when visiting a mosque.
Mujiv Hataman, governor of the Autonomous Region in Muslim Mindanao (ARMM), an area of the Philippines made up mainly of Muslims, called on the show's producers to issue an official apology.
"This display betrays an insensitivity by these hosts, as they equated the Muslim garb as a costume to be feared, in the way that zombies and ghouls are to be feared," he said.
But some Facebook users fired back in response to what they see as an unwarranted attack on Eat Bulaga.
One wrote: "It doesn't mean because it's Halloween you need to frighten people" by sticking to scary costumes. Another said: "Halloween is not about horror, there are many wearing costumes of saints and angels. It would mean they are disrespectful too."
In response to calls for an apology, Senator Sotto sent a text to the Philippine Entertainment Portal (PEP), a Filipino entertainment news site, denouncing the allegations against him. He claimed on Instagram that a Saudi Arabian sheikh in Riyadh gave him the costume - and said it was meant as a gesture of respect.
"He likes it every time I get a chance to wear it. I wear it to honour him," the senator commented. He continued by saying, "Does it mean those wearing priest, nun outfits or the national costume are not allowed in costume parties?" He insisted he did not mean to offend Muslims. The thobe is not strictly a Muslim garment and is also worn by people of other religious faiths in the Middle East.
Sonny Laragan of Pinoy Radio UK, a radio station for the UK Filipino community based in London, said that Sotto wears the same outfit every year at Halloween, but this is the first time he's heard of any backlash.
Blog by Robert Spencer and Olivia Crellin
More about Aldub: The most popular show you have never heard of
And the waving trend it sparked: Why this cute little wave from Asia is catching on around the world
Next story from BBC Trending: What a viral picture tells us about child poverty in Africa
The photo has been copied and posted countless times, becoming known on the internet as "Sceptical Third World Child". But with the images and funny captions has come a serious debate about how the Western world views and reports on poverty and African children.READ HERE
You can follow BBC Trending on Twitter @BBCtrending, and find us on Facebook. All our stories are at bbc.com/trending..