#BBCTrending: Dawkins angers his followers on Twitter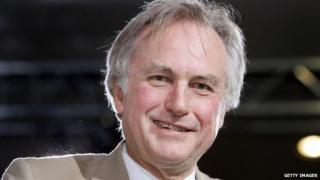 Bestselling author Richard Dawkins tried to rank types of rape on Twitter - and created a mini-firestorm.
He embraces controversy. His 1976 book, The Selfish Gene, re-examined Darwinian theory. One of his bestselling books is called, simply, The God Delusion. But Richard Dawkins is in the news this week because he wrote about rape on Twitter while trying to explain the nature of a logical argument.
On Tuesday BBC Trending reached him in Oxford and asked if he had anything to say about social media. He was concise on the phone.
"Bye-bye," he said - and hung up. He was more expansive on Twitter.
In a recent tweet, he wrote: "Date rape is bad. Stranger rape at knifepoint is worse." He added: "If you think that's an endorsement of date rape, go away and learn how to think."
Not everybody agreed.
One of his followers, The OSC, wrote: "[R]ape is a legal term, there are no degrees - I think you need to be more careful in your terminology, Richard." Meanwhile Meral Hussein-Ece, a member of the House of Lords, suggested that Dawkins "needs to take a vow of silence."
This kind of thing is nothing new.
In 2011 an prominent female atheist made a video in which she discussed being propositioned at a secular conference. Dawkins responded in the comments of another blog with a satirical letter addressed to "Muslima".
"Your husband is allowed to beat you, and you'll be stoned to death if you commit adultery," he wrote in the letter. "But stop whining, will you. Think of the suffering your poor American sisters have to put up with."
That was a swipe at American women. He has chosen other targets.
In 2013, he wrote on Twitter: "All the world's Muslims have fewer Nobel Prizes than Trinity College, Cambridge. They did great things in the Middle Ages, though."
In the most recent incident, as usual, he stood behind his words - refusing to apologise and mocking his critics.
"What I have learned today is that there are people on Twitter who think in absolutist terms, to an extent I wouldn't have believed possible," he wrote.
It's nice to know that someone as smart as Dawkins is still finding out about the world.
Reporting by Tara McKelvey
You can follow BBC Trending on Twitter @BBCtrending
All our stories are at bbc.com/trending