#BBCtrending: Why is Chuck Norris trending in Argentina?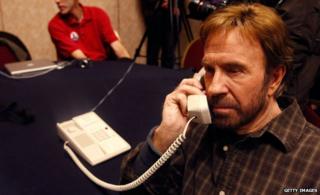 Chuck Norris is trending in Argentina after the country's World Cup semi-final victory against Holland. So what has the US actor and martial artist got to do with football?
Famed for being the ultimate action man, Chuck Norris has inspired long lists of 'facts' about what a tough guy he is. The lists have been entertaining people for years.
Now Argentina midfielder Javier Mascherano is getting the Chuck Norris treatment on social media after he played strongly despite sustaining a head injury early in the game. The hashtag #maschefacts is being used with posts to describe all of the awesome things Mascherano can do.
"Voldemort is afraid of Mascherano's name. #maschefacts" wrote Matty Benavides, referring to the evil character in the Harry Potter books by JK Rowling. Another by Pablo Nicolás said "If you try to draw blood, the needle bends #maschefacts."
Chuck Norris is regularly spoken about on social media, especially in the US. But in the past day over half of the tweets about him have been from Argentina. There have been 44,000 #maschefacts posted on Twitter in the past day. Here's a selection:
---
When Mascherano was in Liverpool he travelled back in time and taught the Beatles how to sing.
Mascherano opens an Oreo cookie and the cream stays on one side.
Mascherano takes the train in rush hour and always gets a seat.
Chuck Norris beats everyone. Except Mascherano.
---
Not everyone on social media thought it was a sensible idea for Mascherano to continue playing after the head clash which left him visibly groggy. Thousands criticised the speed with which he was back on the pitch and questioned how effectively FIFA's protocol on concussion was enforced.
Many sports doctors, pundits and physiotherapists gave their opinion online including former US Major League Soccer player Taylor Twellman. He shared his personal experience of how an injury ended his sporting career and was critical of FIFA. Unsurprisingly, around one third of the conversation about Mascherano and concussion came from the US where it's a hot topic in the NFL.
Reporting by Anne-Marie Tomchak
You can follow BBC Trending on Twitter @BBCtrending
All our stories are at bbc.com/trending