#BBCtrending: Why Hugh Laurie is trending in Algeria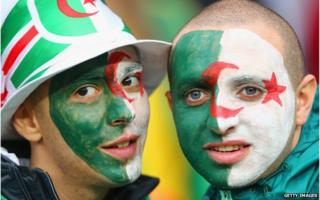 The world rallied behind Algeria in the World Cup - from the British actor Hugh Laurie, to the trending hashtag "We are all Algerian".
They're out of the World Cup following their defeat by Germany on Monday night, but Algerians must be feeling the love, with many praising their classy performance.
In Algeria itself, all 10 of the top 10 Twitter trends on Tuesday morning were about the World Cup. The Twitter handle of Hugh Laurie, the British actor and star of the TV series House, was among them. He tweeted: "Algeria just plain bloody heroic," and Algerians clearly appreciated the attention. "Even Dr House congratulated us. We have all gained a family," was one tweet in response.
Throughout the tournament, a hashtag which translates as "We are all Algerian" (#كلنا_الجزائر) has also been trending on Twitter in the Arab world. It has been used in Algeria... but not as much as in Saudi Arabia, Jordan, the United Arab Emirates and Egypt. To some extent this reflects just how popular Twitter is in these countries. And, given Algeria was the only Arab country to qualify for the World Cup, perhaps it's not such a surprise.
But the fact that people in Egypt have used it so widely is a little unexpected. In 2009, there were clashes between Egyptian and Algerian fans as they battled it out to qualify for the 2010 World Cup. Flags were burnt and there were riots on the streets of Cairo after Algeria won.
That's all long forgotten it seems, as support for Algeria came in from across the Arab world. "Today, we are all Algerians. Best of luck to the Algerian team," tweeted Palestinian singer Mohammad Assaf, as Algeria prepared to play their first game. After they were knocked out by Germany, the tweets still came streaming in. "For me, Algeria didn't lose, Algeria made us proud and has earned the respect of the world," tweeted Jordanian journalist Ola Alfares.
Many across Africa also choose to cheer Algeria on. "Great effort by the Algerians. Africa is behind you," tweeted Steven Kabuoro in Kenya. A look at the hashtag #teamafrica shows lots of support for Algeria - particularly in Kenya, Nigeria, South Africa and Ghana (all big Twitter users).
Algeria may be out of the World Cup, but they're not feeling down about it. In the 2010 World Cup in South Africa, the country didn't score once. "We just wanted to score a goal," says BBC Arabic's Hana Chaich, who is Algerian. "And the way they played yesterday - everyone is celebrating like we won the World Cup itself!"
Reporting by Cordelia Hebblethwaite
You can follow BBC Trending on Twitter @BBCtrending
All our stories are at bbc.com/trending