#BBCtrending: Should Kenya bring back its boys?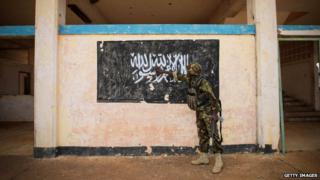 The "BringBackOur..." hashtag format has spread to Kenya, where it's being used to channel anger after a deadly terror attack.
At first, Al-Shabab said they did it. The Somali militant group claimed responsibility for this week's attacks in the coastal town of Mpeketoni in Kenya, which left over 60 people dead over two days and shocked ordinary Kenyans. It now seems they might not in fact have been responsible, but still over 4,000 Kenyans have taken to Twitter using the hashtag #BringBackOurKDFSoldiers. The tag refers to the deployment of the Kenya Defence Force (KDF) troops in Somalia, which al-Shabab cite as the motivation behind their violent attacks in Kenya. Some are pretty clear. They are sick of al-Shabab violence and want their army back home. Others think that returning the troops would do no good.
The hashtag is also smart campaigning. It echoes #BringBackOurGirls which brought global attention to the kidnapping of nearly 200 Nigerian schoolgirls by Islamist militants in April. Popular Kenyan blogger Xtian Dela was one of the first to use the phrase, imploring his 228,000 Twitter followers to get it trending in the aftermath of the Mpeketoni attacks. "We've done hashtags targeting officials before, but they don't carry much weight," he says. "We chose this hashtag similar to #BringBackOurGirls knowing the world was going to pick it up." He says that that a lack of accountability at the top of Kenya's government means action must be taken. "Kenyans want someone to own up for the insecurity in the country," he says. "When we started the hashtag, we were telling the government, if you don't want to get rid of those responsible, then why not just bring the soldiers back to the country and solve this Al-Shabab issue."
But there's also a debate in Kenyan social media over whether withdrawing the troops would end the violence. Political consultant Ngunjiri Wambugu disagreed with the hashtag, saying it was "ill-advised". He tweeted that a withdrawal will not make Kenya safer. "We are forgetting why we went to Somalia in the first place," he said. "Before we went to we were still being attacked - withdrawing from Somalia will not stop that."
Reporting by Paul Brown
You can follow BBC Trending on Twitter @BBCtrending
All our stories are at bbc.com/trending