#BBCtrending: The Spaniards who don't want a new king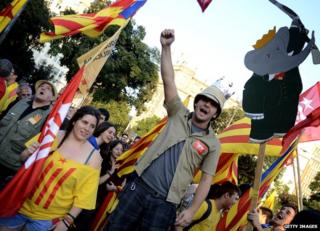 The abdication of the Spain's King Juan Carlos has unleashed a wave of anti-monarchy sentiment on Twitter, and seen demonstrations break out across the country. But does the clamour of Republican voices reflect the views of the nation as a whole?
One hashtag, "The Third Republic" (#IIIRepublic), has been used more than 110,000 times on Twitter since the news emerged - a reference to the fact that Spain has been a republic twice before. Another with a similar meaning, #APorLaTerceraRepublica, has been used almost 35,000 times. "Madrid demands freedom, equality, progress," said one. "We are citizens, not subjects, do not steal our sovereignty," tweeted another.
Calls for a national vote on the issue have sprung up around the hashtag "Referendum now" (#ReferendumYA), which has appeared around 115,000 times. "The majority of Spaniards don't want bullfights and monarchy. We don't want old and unfair traditions," said one. Several online petitions demanding a referendum have been created, and one has already gained more than 230,000 signatures.
The biggest single hashtag is a neutral one, #ElReyAbdica, and has been used more than half a million times, mainly to break the news itself. So far, no pro-monarchy trends have gathered momentum.
Despite the voracity of the response, some doubt it reflects majority opinion in Spain. "I don't think there is a strong social movement against the monarchy," says Julian Casanova, a historian at Zaragoza University. "If you analyse big media, they are not Republican, and the two big political parties are not Republican," he explains.
Noemi Hernández, a young Spanish journalist, and a Republican, thinks there is a huge gap in attitudes between generations. She says a lot of young people - who are more active on social media - favour rejecting the monarchy, whereas most older people do not. The prospect of actual reform is slim, she adds: "We don't have a real chance."
The king had been a hugely popular figure in the country - credited with easing its transition from dictatorship to democracy in the 1970s - but a corruption investigation into the business dealings of his daughter damaged his reputation. Photographs of him hunting elephants in Africa in the midst of the financial crisis also dented his public image. The animal is now being used as a symbol on social media, by those calling for an end to the monarchy.
Reporting by Sam Judah
Have you subscribed the BBC Trending podcast? You can do so here via iTunes or here
All our stories are at BBC.com/trending