#BBCtrending: The fake 'MH370 search' video that went viral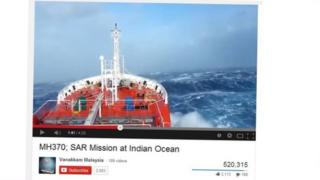 A video of a ship supposedly searching for the debris of the MH370 flight has been widely shared on social media and picked up by news organisations - including a British newspaper. The problem is it has nothing to do with the search at all.
A video showing a ship driving forward through choppy seas has been widely shared on Facebook. One thread alone - posted by a Malaysian woman - was shared more than 100,000 times, before being pulled. People commenting praised the courage of those involved in the rescue operation, and sent their prayers. "We in Australia hope and pray that the wait will soon be over," was one. "I salute them for their unbroken faith and braveness!" was another. It was also widely shared on Facebook in India, and on YouTube - this posting alone was watched more than half a million times.
But the video was first posted on YouTube more than a year ago - and therefore clearly has nothing to do with the search. It was uploaded by Captain Ivan Zakryzhevskiy, who told BBC Trending the ship was a short way off the coast of Portugal at the time and en route to the UK. In short, nowhere near the Indian Ocean where the current search for the wreckage is on. Zakryzhevskiy says he only realised his video had been reposted - and falsely linked to the MH370 flight - when he started getting hundreds of comments on his YouTube page.
News organisations were also fooled. The Telegraph, which published the footage online, has now taken it down. India's Storypick issued an extensive apology. The BBC has also been taken in by similar social media generated stories which have turned out to be incorrect. If you want to know if a video is genuine, this is a helpful guide to verification.
In the absence of much solid information, all sorts of theories have circulated on social media - everything from US singer Courtney Love's coordinates showing where she thought the plane was, to it vanishing in the Bermuda Triangle. There was even a shaman in Malaysia claiming he could find it using bamboo binoculars, coconuts and a fish hook.
Have you subscribed the BBC Trending podcast? You can do so here via iTunes or here
All our stories are at BBC.com/trending