#BBCtrending: The beauty queens campaigning for peace in Venezuela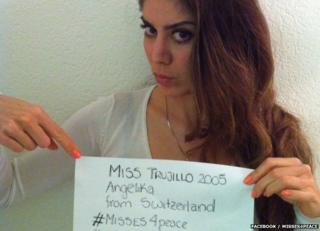 Recent violence in Venezuela has claimed the lives of two former beauty queens, and now a host of pageant contestants - past and present - have called for an end to the turmoil that has disrupted the country.
In January, Monica Spear was killed during a roadside robbery, just before protests broke out in the country. And in February, Genesis Carmona was shot and killed during anti-government protests. Venezuela's murder rate is the fifth highest in the world, and was one of the reasons behind the current wave of demonstrations. In response to the violence, another former beauty queen has started a Twitter trend by calling for peace talks - and encouraging her fellow models to do the same.
"We always talk about world peace, it's a typical cliché," says Angelika Hernandez - Miss Trujillo 2005 - who started the #Misses4Peace campaign, "but why not use this image to raise awareness about what is actually happening?" She says the campaign is it is avowedly apolitical, and it has seen contributions from beauty queens who are both pro- and anti-government. Her primary aim is to draw attention to what is happening in the country. "I live in Switzerland now and was seeing headlines about Ukraine, but nothing about Venezuela," she says. The hashtag has been used more than 34,000 times since February - spurred on by new photographs of beauty queens eager to help spread the message.
Competitive beauty contests are a pervasive feature of Venezuelan culture. With a population of just 30 million people, the country holds 13 Miss World and Miss Universe titles - more than any other. "It's a big business here," says Hernandez, who now plans to found a charity on the back of the campaign's success, to raise funds and distribute them to those affected by the violence.
Have you subscribed the BBC Trending podcast? You can do so here via iTunes or here
All our stories are at BBC.com/trending