#BBCtrending: Is Kenya #sickat50?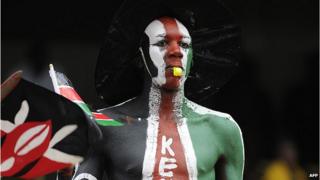 It's the 50th anniversary of Kenya's independence, and many Kenyans are celebrating using the hashtag #Kenyaat50. But a highly critical hashtag - #sickat50 - has also proved very popular.
Kenyans are big on Twitter. They are - after South Africa - the most prolific tweeters in Africa, according to a recent study. And in the past few hours alone, there have been tens of thousands of tweets using the hashtag #Kenyaat50. Many express a sense of national pride. "Golden Jubilee for Kenya, great strides have been made. Happy Birthday Kenya," is one typical example.
But running in parallel to this is another hashtag, #sickat50. It started as a reference to a strike by medical workers across Kenya, but is also being used to express a wider sense of dissatisfaction with the state of the country as a whole - including corruption and poverty. "When you look at the developmental indicators, what exactly are we celebrating?" asks blogger and journalist Betty Waitherero. In the past few days, #sickat50 has been used more than 20,000 times on Twitter.
"If you want something to trend among Kenyans, either make it hilarious or make it emotional," advises Waitherero. She has been tweeting vociferously using the hashtag in an attempt to raise the profile of the strike. It's an issue she feels passionately about - her brother is a doctor and she herself has undergone serious medical treatment. Kenya is devolving responsibility for healthcare to the counties, but unions argue the process is being rushed through, and that existing agreements on pay are not being respected.
"We discussed many options", says Karl Daniel, a recently qualified doctor in Nairobi, who was the first to use the hashtag 10 days ago, after a discussion with fellow doctors and nurses on Facebook. They were keen to find a hashtag that would resonate with the public, who tend to oppose strikes by medical workers, he says. The strike has been widely observed - almost all public hospitals across the country are shut. Some Kenyans on Twitter have criticised the negativity of the comments on #sickat50. "I am proud to be Kenyan and #greatfulat50" tweeted one.
Reporting by Cordelia Hebblethwaite
Are you in Kenya? What does #Kenyaat50 or #sickat50 mean to you? Tweet using using #BBCtrending and follow us @BBCtrending.
Here are are some of your responses so far
@PSituma: I am a doctor and it's sickening how little the government prioritises health. A sick nation cannot develop.
@adekorir: I'm proud of what Kenya has done in the last 50 years. I feel strongly patriotic and African now.
@RavenclawNjeri : To all those who think I am unpatriotic, I dare you to shadow me on my week on call, 24 hrs,7 days. No break afterwards.
For more on this story, listen to our next weekly #BBCtrending radio programme from 14:50 GMT on Saturday on the BBC World Service. Subscribe here.
The programme also looks at how when China chokes, China jokes: the humour that trended as dense smog descended on Chinese cities.