Spy stories, Merkel's visit, migration figures and farewell to Finney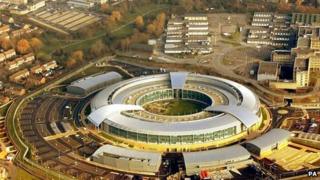 Stories about spies feature prominently in Friday's newspapers.
The Guardian leads on claims that surveillance agency GCHQ intercepted and stored millions of webcam images - including a large number of sexually explicit communications - from internet users who weren't suspected of wrongdoing.
However, it's revelations of historic intelligence activity that capture the imagination of most of the press, with the Independent splashing on how MI5 controlled a network of hundreds of British Nazi sympathisers who believed they were working for the Gestapo.
An agent known by the alias Jack King penetrated the UK's fascist circles, which included provincial engineers, an astrologer and a Catholic priest, it says. According to the Times, they "supplied information which, if it had reached the enemy, would have been of vital use".
The audacious MI5 plot involved setting up a "fifth column" of right-wing extremists to counter concerns that the British branch of German firm Siemens had run a "vast espionage operation" before the outbreak of World War Two, says the Guardian.
Ben MacIntyre, in the Times, asks "who was Jack King?" and says while his real name may never be known, he was a trained agent rather than an officer. He would have returned to civilian life after the war and MI5 may still be protecting his identity, MacIntyre says, adding: "It is possible that King is still living, and enjoying his sudden celebrity in secret," he adds.
The Daily Telegraph suggests King was John Bingham, an agent who partly inspired John Le Carre's famous George Smiley character, although it quotes the security service's official historian refusing to confirm King's true identity. Whoever he was, the Daily Mirror quotes King's spymaster as saying: "I believe he deserves an MBE for his work and the danger he has incurred."
Helen Warrell, in the Financial Times, writes that among the key figures King identified was a "crafty and dangerous" Swedish-German woman, Marita Perigoe. She was married to a jailed member of the British Union of Fascists but reportedly had little time for the BUF, regarding them as "insufficiently extreme" and hating their loyalty to Britain.
The Independent traces a Hertfordshire woman whose father was married to Perigoe before meeting her mother. "It's all a bit bizarre... the only thing I was ever told about her was that they divorced because she didn't want children," she reportedly said.
International relations
Today's more cordial relations between Britain and Germany were reflected in the welcome David Cameron gave German Chancellor Angela Merkel at Downing Street.
"It started with a kiss... and then a handshake... and finally a grimace," says the Daily Mail, which reckons the "touchy-feely stuff went too far".
However, the paper's columnist Simon Heffer doesn't think the charm offensive did the prime minister much good. "If he thinks this wily German is going to provide him with a promise of serious EU reform that he can take into the election campaign next year, and then use to persuade the electorate to vote 'yes' in a referendum in 2017, he is utterly deluding himself," he writes.
As Donald MacIntyre, in the Independent, puts it: "She proves to be rather a class act, charming to a fault about her welcome and as unlikely as you would expect from the EU's dominant politician to be deflected by it from her purpose, which, unhelpfully for the current Tory party, includes continued European 'unification'."
Mrs Merkel's speech, according to the Guardian's Esther Addley, was "calculated to flatter", particularly when she "mentioned the war".
"To hear a German chancellor offer personal thanks to 'those almost 1.7 million British servicemen and women... who served in Germany' - killing, while they were at it, millions of her compatriots - is an astonishing thing."
For the Times's Ann Treneman, Mrs Merkel was treated like a Queen and appeared as an "Uber-Mutter" of Europe. However, the Mail's sketchwriter Quentin Letts didn't think much of her delivery, saying: "It was like listening to train announcements at Potsdam Hauptbahnhof."
The cartoonists give their take on the chancellor's visit to Buckingham Palace. The Telegraph's Bob pictures the Queen, a corgi at her side, remarking to Mrs Merkel who's brought Mr Cameron as her lap dog: "Gosh. He's very obedient."
The Daily Express, meanwhile, sketches the Queen preventing the Duke of Edinburgh from saying anything inappropriate by tying a handkerchief around his mouth, while saying: "Welcome to Buckingham Palace, Frau Merkel."
Migration 'mockery'
If the German chancellor didn't quite give her British counterpart what he was hoping for, the papers suggest the latest immigration figures give Mr Cameron even less cause for celebration.
His election pledge to slash net migration figures to tens of thousands "lay in tatters" thanks to an increase to 212,000 in the year to September, according to the Daily Star. "This was the figure BEFORE all controls on Romanians and Bulgarians were removed last month," the Sun points out.
And while the Daily Telegraph quotes the prime minister's spokesman saying the pledge can still be met, Daily Mail home affairs editor James Slack says Mr Cameron is "no longer in charge of his own destiny" on the promise, thanks to the European Union's free movement directive. "The inflow which the government can control - migrants from outside the EU - fell by 25,000 last year," thanks to tightened visa restrictions, he notes.
For the Daily Express, the figures are "yet more proof of the damage being done by unfettered immigration from the EU" and it won't end until Britain leaves the union.
And - as the Daily Mail sees it - the pro-Brussels Lib Dem Business Secretary Vince Cable "taunted the prime minister" by saying the failure to reduce net migration was a "good thing" because it meant fewer British people were having to emigrate to find work.
The Independent sees immigration as a "symptom of economic success and a cause of further prosperity" and says Mrs Merkel highlighted the free movement of workers as one of the EU's "greatest achievements". It adds: "Unfortunately, the main effect of Mr Cameron's foolish pledge is to make it harder to persuade people that she is right."
The Times agrees, saying Mr Cameron "must find a way to preserve" freedom of movement, while mitigating its costs, such as strains on local services and a sense that some communities are being overrun.
Finney's 'final whistle'
"The final whistle," is how the Daily Star describes the "farewell to football legend" Sir Tom Finney, alongside a picture of floral tributes outside Preston North End's Deepdale ground.
The Mirror's Mike Walters describes fans in tears outside the church which hosted the funeral of the "Preston plumber" - so known because of his second job - who was "never booked, never sent off and [who] never complained".
"He loved Preston and yesterday thousands of its citizens showed how much they loved him back," he writes, before quoting the eulogy of Finney's England team-mate Jimmy Armfield: "Tom was world-famous and although he never won a Championship medal or an FA Cup winner's medal, he won something of much more importance - the hearts of his team-mates, supporters, opposing players and even the whole country."
Former Preston player Mark Lawrenson writes in the Mirror: "I recall him once telling me wives were not allowed in the players' lounge at Preston, so he'd just get the bus home with Elsie after the game. Can you imagine that happening today?"
On its back page, the Independent prints an image of mourners close to the statue known as The Splash - which depicts Finney beating Chelsea defenders on a rain-sodden pitch. Inside, it notes that those paying their respects included Manchester United legend Sir Bobby Charlton and its current manager - and ex-Preston boss - David Moyes.
Former team-mate Tommy Docherty described Finney as the greatest player of all time, the paper says, telling those gathered: "When I see Lionel Messi on the television playing for Barcelona, I think 'maybe you could be as good as Tom'."
Making people click
Daily Mail: 'Three bedrooms, semi-detached... with rubbish strewn across the living room and washing up piled up in the kitchen': Home owner uses photos of his squalid house to try to sell it on property website
Guardian: Female masturbation comes into its own in pop music
Times: A symptom of broken Britain is fixed at last
Daily Mirror: Scorned husband posts raunchy pictures of wife all over town including school noticeboard after they split
Daily Telegraph: Rome days away from bankruptcy