Newspaper review: Nigella, Osborne, China and storms make headlines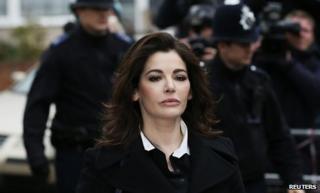 The face of Nigella Lawson - giving away little by way of expression as she walked into court - features on most front pages.
But the headlines capture the drama that unfolded at Isleworth Crown Court. Although the TV chef was only a witness in the trial of two of her former housekeepers, many papers - such as the Sun and Daily Mail - focus on her admission to taking drugs, including cocaine, in their headlines.
Others, the Daily Mirror and Daily Express among them, lead on Ms Lawson's description of her marriage to Charles Saatchi, whom she described as "brutal".
Reviewing the papers for the BBC News Channel, Guardian deputy editor Paul Johnson said the coverage was "exactly what you would expect". He added: "Some [papers] have gone back to page seven with analysis, not so much of the evidence as of the look."
Media commentator Daisy McAndrew said it was Ms Lawson's words "mixed with the images … which combine to make the sight of this woman clearly coming out fighting. [She] doesn't want to look aggressive… but equally doesn't want to look like a victim."
Demeanour, dress and drama
The Mail examines Ms Lawson's appearance more closely than most, noting the hair highlights, "nude lips", £220 facials, false lashes and "favourite old coat" that crafted the image of the "Domestic Goddess" the media watched walk into court.
Sarah Vine writes in the Mail that Ms Lawson appeared "a vision of mournful indignation, chin up, cheeks gently flushed, hair just the right side of a blow-dry, those usually bright brown eyes sad and far away..." She added: Marie Antoinette herself could not have mustered more drama on her way to the scaffold."
Sun fashion editor Saskia Quirke saw a "military-style coat that said: 'this means war'," in place of the "frivolous frocks" the cook wears on TV.
And the Daily Telegraph's Allison Pearson describes: "The regal mane; the perfect complexion, with just enough liner on those flashing eyes and just enough pallor to hint at sufferings nobly borne..." Of Ms Lawson's evidence about drug-taking, the writer adds: "Pfft. It was all besides the point. Anything would have been after an entrance like that."
Meanwhile, Paul Cheston's sketch in the Independent recalls a lawyer calling her "Mrs Saatchi". "Her eyes blazed. 'What did you call me?" she spat... It wasn't the first time [the QC] had to back down because the TV cook had come ready for a scrap."
Not 'playing Santa'
Several papers lead on the suggestion that Chancellor George Osborne's Autumn Statement will set out changes to the state pension that could see today's twenty-somethings working until their 70th birthday.
The Mirror's Paul Routledge reckons: "There is something uniquely nasty about middle-aged men in cushy jobs, sitting on gold-plated pensions, telling hard-working people they cannot look forward to retirement."
"Those who aren't fit enough to work in their late 60s will be marooned on increasingly tight benefits," notes the Guardian's leader, saying the reform "does nothing to promote equity between today's have-it-all pensioners and their successors".
But the Independent's editorial says retirement at 70 "is hardly working into one's dotage" as people enjoy increased life expectancy. It adds: "We should not be bemoaning George Osborne's reforms; we should be throwing a party."
The Sun, too, is full of praise for the chancellor's continued push towards austerity, saying: "George Osborne would love to play Santa today, but he won't."
The Financial Times even sees some positives in Mr Osborne seeking a "responsible recovery" from economic woes. It says the chancellor will proclaim that a budget surplus is "in sight" for the first time this century.
Calm before storm
After weeks which have seen predictions of "Arctic blasts", "killer floods" and "three months of winter hell" splashed across front pages, the weather is off page one as the country braces for gale-force winds. Editors are poised to see whether the forecasts prove correct.
Met office warnings are reported on inside pages, with the Express reproducing a Met office map of the UK. Much of the country is obscured by yellow and orange blobs representing the areas at risk from "winds of up to 100mph".
Meanwhile, floods could "swamp" the UK, according to the Mirror, which reports: "Coastal communities have been warned to brace themselves for the most serious tidal surge for more than 30 years."
However, the Times says that while Thursday's expected arrival of winter may tempt people to believe the recent claims that this would be the most severe winter in a century, much of the long-range forecasting is a "blizzard of guesswork". It quotes former BBC meteorologist Bill Giles complaining to the Radio Times that some forecasts are done by people "sitting in their bedroom guessing", with the forecasting market increasingly filled by those without meteorological qualifications.
The Daily Express, however, is on firm ground in stating: "The outlook is wet again." It features an interview with Wet, Wet, Wet singer Marti Pellow and bassist Graeme Clark, as they talk about reforming to embark on a pre-Christmas tour.
Chinese whispers
It can't be often that pig semen makes headlines in the Financial Times but it rounds off reports on David Cameron's trade visit to China by saying the PM helped push through a deal paving the way for Britain to begin selling "material for artificial insemination" early next year.
UK farmers are happy, although the FT quotes the British Pig Executive chairman as saying: "Semen is a big deal but it's nothing compared with the trotters." Trade in pig's feet - a delicacy in China - is expected to rake in £5m.
Most papers, like the Independent, concentrate on Mr Cameron's comments that UK schools should "look beyond the traditional focus on French and German and get many more children learning Mandarin".
Meanwhile, the Mail's editorial criticises the prime minister for briefing the press about domestic issues when he should have been "drumming up orders" for British firms. "Isn't he in danger of distracting public attention from his Chinese mission?" it asks, before wondering whether it was "precisely his purpose" to avoid drawing attention to his lack of protest about China's human rights record.
Making people click
The Times: Where's Gordon? The very private life of Britain's 'ex-politician'
Financial Times: New York: A concrete legacy
Independent: Is this the scariest advert ever? Japanese tyre commercial comes with its own disclaimer and health warning
Daily Mail: 'I'd convinced myself I was fat; I didn't like my figure and I had a big nose': Ellie Goulding opens up in intimate interview with Cosmopolitan magazine
Guardian: Football: Bryan Oviedo ends Everton's 21-year wait at Manchester United