See Hear: Star signs and Fidel Castro's digitally-altered ear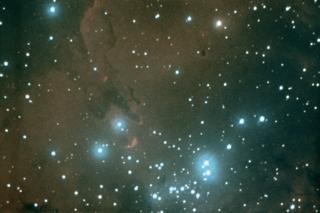 A weekly helping of news of interest to the deaf community, compiled by the See Hear team.
Star signs
A Scottish government-funded project, making sense of astronomy, has created a glossary of more than 90 BSL signs for planets and stars.
Before the glossary, signers had to finger-spell words and names letter by letter, or use literal translations. Now, instead of signing "north" and "lights", the glossary shows us hands and fingers tracing the unique visual effect of Northern Lights.
The entire glossary is available online, with videos for all 90 signs.
The astronomy glossary joins many other specialist BSL glossaries for mathematics, chemistry and physics. Let's wait and see if regular BSL users adopt it in everyday speech.
Would you cover your eyes for a week to improve your hearing?
Recent research suggests temporary blindness heightens hearing and has potential as a therapy for some deaf people. In an experiment, keeping mice in the dark for a week changed their brains which enhanced their hearing.
This is the converse of the oft-told story that deaf people see better to compensate for their lack of hearing. On this front, scientists at Sheffield University have indeed found that retinas adapt to give better peripheral vision for those who are born deaf or become deaf in early life.
But back to this week's news, could depriving a deaf person of their sight for a week restore some hearing? If you fancy testing the theory get in touch. We might even come and film your efforts.
Castro's disappearing hearing aids
Some deaf people like wearing hearing aids, to maximise whatever hearing they already have. Others don't wear them, preferring total silence.
But it seems that retired Cuban leader Fidel Castro wants to have his cake and eat it when it comes to using the technology.
The Cuban government has allegedly been doctoring recent photographs of Castro to remove clearly visible behind-the-ear hearing aids from his ears. The Associated Press has deleted the images from their library because their policy states that "photos must depict reality".
We think it's a sad state of affairs - Castro could just accept his deafness and be an out-and-proud hearing-aid wearer.
Lights, camera, action
Zoom, the award-winning scheme for UK deaf filmmakers, opens to new applications on Friday. This year, it is focusing on documentary-based short films to "encourage interest and develop stronger skills in this area of deaf programme making".
Since its launch in 2010 by the British Sign Language Broadcasting Trust (BSLBT) and Neath Films, 15 Zoom shorts and five Zoom Focus films have been produced by deaf film-makers for the scheme. They include The End, Strangers, Five Needles, Little World and Crossing The Divide, and have been shown online in the BSL Zone, on Film4 and the Community Channel, and screened at film festivals around the world.
See Hear next week
For one week only, See Hear will air on BBC Two at 08:00 GMT on Thursday 20 February. This is to make way for the Winter Olympics. Watch it for seven days afterwards on BBC iPlayer
This week's programme explores nature in art with central Scotland Forestry commission project Sign in the Woods. We visit their artistic nature trail, where children paint animals and learn woodland skills. We also return to Emma Amsden, whose talent shines through her striking photographs of transient moments in the Yorkshire Dales. And we meet writer David Sindall, whose latest book follows the fate of one man who leaves the city in search of his rural idyll.
Email us at seehear@bbc.co.uk with your stories and comments, like our Facebook page and enjoy watching our programme.
Follow @BBCOuch on Twitter and on Facebook, and listen to our monthly talk show