Ouch talk show 103: Christmas, love it or hate it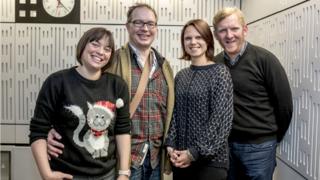 On this month's show: Three real-life Grinches, Paralympian Hannah Cockroft talks about wheelchair dancing on Strictly, and are disabled people in need of better sex education?
Rob Crossan and Kate Monaghan present.
With interviews, debate and topical chat, Ouch helps resolve those difficult disability questions and loves to explore the little things in life.
Download a high quality MP3 version of the show or stream it crystal clear now on Audioboo.
Charlotte Walker, a recent winner of a VMG Mind Media Award for her blog on life with bipolar, joins autism campaigner Kevin Healy at the start of the show. They speak about why Christmas isn't the best time of year for them due to their impairments.
Paralympian Hannah Cockroft, MBE, escapes training for the March 2014 Sport Relief Strictly special to chat with Rob and Kate. She shares her thoughts on student life, acne, sudden fame and how she has only recently learnt how to tie her shoelaces.
A calendar featuring naked disabled people and an anatomically correct rag doll are both being used to move sex education forward. The two organisations behind these projects say that material for learning about sexual function and health and relationships is not inclusive and is often not understandable to those with learning difficulties.
From Newcastle's Them Wifies theatre group, Claire and Victoria join us to discuss how they use the doll. Jennie Williams runs Enhance the UK, who are fundraising with the calendar and promoting their new online disability sex advice forum The Love Lounge hosted by Sam Van Rood formerly GMTV's love doctor; he became disabled himself in 2009 after a stroke.
Music this month is The Spirit of Christmas, written and performed by 11-year-old Fynnjan Verhoven from Buckinghamshire. He has Asperger syndrome and originally penned the song for a school concert. It's had plenty of media attention and he hopes it will get to number one on the Christmas chart.
Follow @bbcouch on Twitter and on Facebook, and listen to our monthly talk show