The Voice: From blind audition to dancing blind on live TV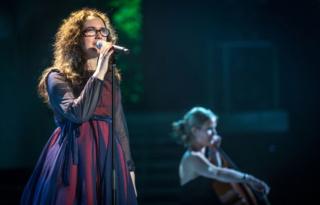 The Voice finalist Andrea Begley has 10% vision. Her progress through the BBC talent show has been a crash-course in learning to dance and how to negotiate a busy TV set.
At 15, I requested an application pack for Stars in Their Eyes, the big TV talent show of the 1990s. But my family's sensible questions about how I, a blind teenager, would manage to perform on television, stopped me from entering.
I thought I'd be great... but they thought I'd have problems with some of the basics like facial expression, dancing and even facing the camera.
This Saturday, 26 year-old Andrea Begley, who is almost blind, will be in the final of TV talent show The Voice UK. Every time she has appeared on the programme, I've really wanted to know how she copes behind the scenes, and whether I should have gone ahead and tried performing on TV when I was a teenager.
The Northern Irish singer-songwriter is no stranger to the stage - but it's a different challenge to television and a very different craft, she tells me down the phone while getting her nails done before a rehearsal.
The part she dislikes most? The dancing. Begley says blind people don't have any concept of what their dance moves look like to others. "I'm always afraid to do it in case I look stupid," she says.
I can only hear television - the visuals go over my head - so my wish to be on Stars in Their Eyes all those years ago was based on the mistaken belief that it was just about the singing... and a heart-warming back story, of course. It hadn't even occurred to me that I might have to dance.
There are people with severe vision loss who love to dance. Some do it professionally but in general, even if the person who can't see knows every step by heart, fluidity and flair are best learned by sight.
Many singers with low vision tend to stand still on stage but, without eye contact, connecting with their audience during a performance is tricky. In fact, Begley says that one reason she applied for The Voice was to improve her stage presence, which has been criticised by talent contest judges in the past.
"If you can't see, you can't bounce around the stage and whip the crowd up or interact visually with any of the coaches or the people around you," she says.
Her TV coach Danny O'Donoghue has been very supportive and has taught her simple arm movements.
When learning a routine, she has to be directed by touch. She explains that O'Donoghue has had to manoeuvre her shoulders and arms, physically guiding her through the moves he wants her to do.
"He touched my leg at one point which was interesting," she laughs. "Sometimes it pays not being able to see."
In everyday life, Begley is a civil servant and a trustee for the Northern Ireland branch of RNIB. She chose to try out for The Voice UK over other talent shows because she liked the idea of the aptly named blind auditions. She felt it would put her on a level playing field with other singers as the judges have their backs turned when listening, and only get to see them after committing to represent them - the famous turn of the chair.
In Andrea's audition, she didn't know who - if anyone - had turned round. O'Donoghue and Tom Jones told her that they had, after she had made a joke about her visual accessibility difficulty.
Begley has glaucoma and lost her sight gradually in late childhood. Like many people in her position, she doesn't know Braille and can't see enough to read print.
"I stick to learning songs by listening to them on my iPod, whereas the other contestants walk about with lyric sheets." This means she can't have the words in front of her during a rehearsal but she is used to cramming and has a good memory.
Her sister Hannah is her backstage guide but on set, she relies on the TV production team to show her where she should go and what she's meant to be doing.
"It's been a learning exercise for us all and they seem to have coped pretty well so far."
On appearing slightly off-centre in one filming session, Begley says: "I had to explain that I'm dependent on whoever centres me to begin with because I stay where I'm put."
I need silence to help me orientate myself in a room. So how does it work for her amid the noise and chaos of a live TV show where you need to know your position and that of the cameras too? And, of course, Begley can't see pointing, gestures or stage directions like the other contestants.
"Sometimes the production team have to really shout directions at me because the crowd is cheering loudly," she says.
"Not hearing properly is very disorientating when you also can't see. But I will have familiarised myself with the set beforehand and had an individual walk through with the floor staff."
Like me, many in the UK's blind community will, I'm sure, be watching the final to see if Begley will win. Back in 1997 I could have been saying "Tonight, Matthew, I'm going to be an unconvincing Andrea Corr who stands still."
But maybe in a few years time another blind hopeful could choose to mimic how new role model Andrea Begley performs - and that might be a touch more natural for them.
You can follow Ouch on Twitter and on Facebook
The live final of The Voice is broadcast in the UK on BBC One, Saturday 22 June, at 19:15 BST - or catch up on iPlayer