Egyptian women take up Zumba to counter harassment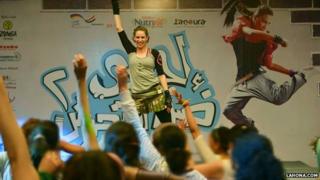 Women are taking up Zumba in increasing numbers as a way to counter sexual harassment on the streets of Egypt, it seems.
US instructor Emeline Lavender, who runs classes for women in Cairo, said Zumba gets women accustomed to working together and forms a "silent bond between them", Arab media reported. "The idea is a combination of Zumba dance to train women to get physically fit and then self-defence techniques to help them defend themselves,'' she explained.
One woman told the Turkish Anatolia news agency: "I always wanted to be able to stand up for myself but didn't know how," and praised the Zumba classes for helping her "defend my right and stand up and say 'no'". The dance and fitness training also helped her avoid "more dangerous situations", she said.
The HarassMap activist group that tracks sexual harassment in Egypt is an enthusiastic promoter of Zumba and self-defence courses, as is the Igmadi women's group that recently ran a "street dance" awareness-raising event in the upmarket Cairo suburb of Heliopolis. It is now planning to set up a centre in Alexandria, Al-Ahram newspaper reported.
Sexual violence made the headlines last month when a woman was assaulted by crowds in Tahrir Square after the inauguration of President Abdel Fattah al-Sisi. Sexual harassment had been officially outlawed in Egypt a few days earlier.
Use #NewsfromElsewhere to stay up-to-date with our reports via Twitter.