North Korea: 'Ban' on popular chocolate snack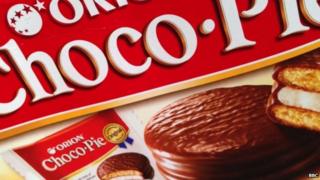 North Korean workers are being denied a popular chocolate snack, it's been reported.
Workers employed by South Korean companies at the joint Kaesong Industrial Complex in North Korea are used to getting Choco Pie chocolate treats with their lunches, but officials have apparently prevented this symbol of Southern decadence from entering the Stalinist country, the Seoul-based newspaper Chosun Ilbo reports. The chocolate-and-marshmallow snacks are popular with the North Korean workers at the complex not for their taste, but for the fact that they are worth substantial sums when sold on the black market, a trend Pyongyang is keen to stamp out.
Since the ban came into force last month, workers are instead getting sausage, noodles, coffee and other chocolate bars instead. Chosun Ilbo says that some workers "wanted to be paid in US dollars".
Kaesong is an anomaly in relations between North and South Korea. It's an industrial complex on Northern territory where South Korean companies can tap into cheap labour, earning Pyongyang hard currency. Founded in 2004, the complex closed for a period during 2013 amid nuclear sabre-rattling by North Korea.
Pyongyang's Unification Ministry explains the Choco Pie ban by saying that workers are "fed up" with the snacks "and want something else", Chosun Ilbo says. According to BBC Monitoring's North Korea expert, the snack has proved enormously popular among North Koreans, and the ban appears to be an official attempt to clear them, Western goods, and creeping capitalism from open-air markets across the country.
Use #NewsfromElsewhere to stay up-to-date with our reports via Twitter.