France: Man denied vote over 'political' sweatshirt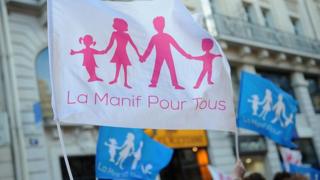 A man in France has been turned away from a polling station for wearing a "political" outfit, it seems.
The man, known as Bruno, was wearing a sweatshirt bearing the silhouette of a four-member family - but was told he couldn't vote unless he got changed, the centre-right newspaper Le Figaro reports. The family image is the emblem of the Manif pour tous (Demo for all), an umbrella group opposed to France's same-sex marriage law.
He "is banning me from voting because I have this T-shirt", Bruno complains in an exchange with an election official that was captured on film. The official retorts: "I have not banned you from voting, I have asked you not to express any political opinion in the polling station."
The incident has prompted contrasting reactions in French media. Le Figaro says Bruno's situation "seems far removed" from cases in which judges have ruled against the expression of political opinions in polling stations.
But a blog post from left-leaning weekly Le Nouvel Observateur says Bruno signalled his intention to vote against candidates committed to equal rights for same-sex couples, so "his message was political".
Rules on political apparel in polling stations vary. Britain does not allow it if there is a risk of intimidating voters and Germany bans clothing expressing support for a party. In 2012, the US state of Arizona abolished restrictions on what voters can wear.
Use #NewsfromElsewhere to stay up-to-date with our reports via Twitter.