Canada: Mysterious origins for baby polar bear's name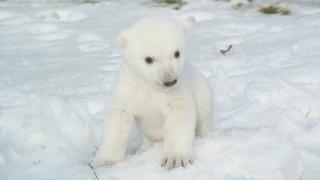 The quest to name a fluffy polar bear cub at Toronto zoo, who has become an internet sensation, has caused a stir with Inuit speakers, it's been reported.
An online poll set up by the zoo sets out six possible names for the cub, including Orson, the Latin word for bear, and Stirling, meaning genuine or pure. But one of the other options, Searik - which says it is the Inuit word for "beautiful" - has generated controversy with some Inuit speakers who say they have never heard the word.
"I have no idea about this name. Searik is not an Inuit word and it doesn't mean beautiful," says Piita Irniq, ex-commissioner of Nunavut, Canada's self-governing Inuit territory, according to the region's newspaper Nunatsiaq News.
Irniq says he asked his followers on Facebook but nobody knew the word either. But Toronto zoo stands by the name, telling the paper they had confirmed the meaning of Searik in their research.
Videos of the cub, who is just three months old, have gone viral on the web and he has drawn crowds to the zoo after first appearing in public on 15 February.
Use #NewsfromElsewhere to stay up-to-date with our reports via Twitter.