Dominican Republic: Officials spot fake fingerprint 'trend'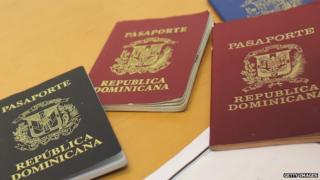 Officials in the Dominican Republic suspect people are having their fingerprints surgically changed to fool immigration authorities, it has been reported.
Requests for new travel documents with updated fingerprints have "raised flags" at the Passports Department and triggered a series of investigations into whether crimes have been committed, the Dominican Today website reports. "If a citizen's prints don't coincide with Central Electoral Board data or with what's in the system from their previous passport, the case is sent to the Justice Ministry at once," Iris Guaba, head of the agency, told the site.
It is not clear why people are changing their fingerprints, or if it is a successful tactic. But officials think it is an attempt to erase biometric data that might identify people previously deported from another country.
Ms Guaba says Dominican travel documents do meet international standards but "don't comply with all security levels the new times demand," she told local television.
People have made determined efforts to erase their fingerprints ever since they first started being used as a means to detect crime. According to experts, fingerprints are durable and will grow back even after they have been worn down.
Use #NewsfromElsewhere to stay up-to-date with our reports via Twitter.