Russian scientists offer mossy treats on for fast-food menu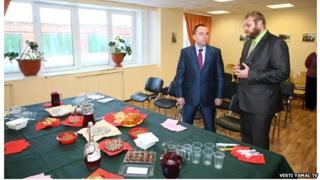 "Lichen chocolate" and "mossy sweets" are some of the delicacies on the world's first Arctic-sourced fast-food menu.
Scientists at an Arctic research laboratory in Russia's far north have developed quick and easy meals from local ingredients, including a mixture of dried bread and swamp moss, seasoned with lichen sauce. "Just add hot water, and your lunch is ready in three minutes," they told Governor Dmitry Kobylkin of the Yamal-Nenets Autonomous Area at an official tasting.
Laboratory Deputy Director Alexander Lobanov also recommended a loaf made of herbs, moss and lichen to Vesti Yamal TV, saying the abundant local plants are packed full of goodness.
The Arctic Studies Centre made the point that these plants provide a healthier alternative for the once-nomadic Nenets people, who have adopted a sedentary life and Russian diet and now suffer hitherto unfamiliar ailments ranging from heart disease and atherosclerosis to diabetes. The huge Autonomous Area in northern Siberia is home to about half a million people, of whom the indigenous Nenets number roughly 40,000. Temperatures are known to drop to almost -60C in winter.
Use #NewsfromElsewhere to stay up-to-date with our reports via Twitter.