Koreas: Joint dictionary aims to bridge cultural divide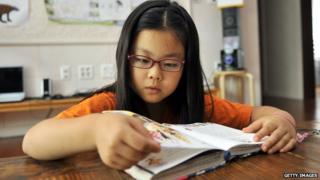 North and South Korea are planning to create a joint dictionary of their languages as diplomatic tensions momentarily ease, it's been reported.
It will include the local dialects spoken on either side of the fortified border between North and South, Seoul's Yonhap news agency reports. The project was first launched in 2005 but has been abandoned every time tension mounts between the two countries.
Both Koreas use the Hangul script for official purposes, but there are lots of regional differences as words enter the language from other cultures in the South, while the North has remained relatively isolated. For example, there is no single word for "helicopter" in North Korea. And, the word for "octopus" in the North translates to "squid" in the South, but the South Korean word for "squid" means "octopus" in the North.
The committee in charge of the project says it hopes the dictionary will foster mutual understanding "for the reunification period and onwards". Both governments say they want the two Koreas to peacefully reunite, but have entirely different visions of what any such agreement would look like.
The dictionary was last scuttled in 2010 after the sinking of the South Korean naval cruiser Cheonan, which Seoul blamed on Pyongyang. But relations have thawed this year and other plans, such as reuniting families separated during the 1950-3 Korean War, have also been put forward.
Use #NewsfromElsewhere to stay up-to-date with our reports via Twitter.