UAE: Woman campaigns for air conditioning on workers' buses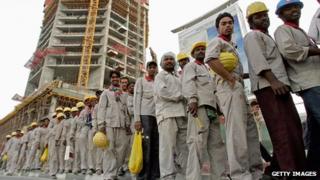 An Emirati woman has launched a campaign to make employers install air conditioning on workers' buses, it appears.
Shamma Al-Zaabi had the idea after the air conditioning broke on her own car in 40C (104F) heat, according to UAE-based newspaper The National.
After driving past a bus full of labourers "with their heads hanging out of open windows", she wondered, "how are these workers putting up with this every day?"
Companies were choosing to lease non-air conditioned buses because they were cheaper, she said, and claimed a 2009 ruling meant air conditioning was now mandatory.
Ministry of Labour officials reportedly responded by saying: "Having air-conditioned buses for labourers is unrealistic. These workers are at construction sites all day. They are sweaty. Putting them in an air-conditioned bus will only make them sick and spread diseases."
Around four million people work in the private sector across the United Arab Emirates, with the Ministry of Labour saying the vast majority are expatriate workers. Stringent laws mean construction workers get a two-and-a-half hour break during the hottest part of the day in the summer months, with companies facing large fines for violations. However, Al-Zaabi - an Abu Dhabi Interior Ministry employee who was been praised by her employers for the campaign - says air conditioning on workers' transport remains an issue. "Almost all the labourers I interviewed say that it gets really hot in the summer and they would like air conditioning," she told The National.
Use #NewsfromElsewhere to stay up-to-date with our reports via Twitter.