Iran: Newspaper issues MP with spoof MI6 identity card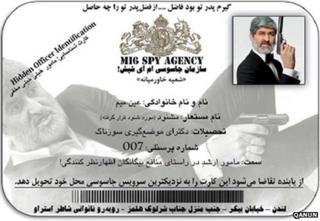 An Iranian newspaper has published a spoof MI6 identity card for an MP, after another politician accused him of being a British spy, it appears.
The Iranian newspaper Qanun mocked up the card for Tehran MP Ali Motahhari using images from a James Bond film, following a sharp exchange of views in parliament. It also compares him to Sherlock Holmes, giving his address as Baker Street in London.
The card is intended to lampoon his more hardline opponents rather than Motahhari himself, by suggesting that the accusations are absurd.
Apparently Motahhari - known for his outspoken opinions - criticised the sentencing of several pro-reform figures after the 2009 presidential election. His attack prompted another MP to say he could be a British agent. "Even if Mr Motahhari is not commenting as an MI6 agent, he has definitely been under the influence of intelligence services," he was reported to have said.
Accusations of espionage are not new in Iran. Hardliners in the country accuse MI6, the UK intelligence agency, of being behind the post-election violence in 2009. British attempts to influence policy in the country are routinely denounced in Iran's more conservative press. At the time of the elections, a state-run news agency accused the BBC of recruiting Iranian spies to work at its new Persian-language TV channel.
Use #NewsfromElsewhere to stay up-to-date with our reports viaTwitter.