Ukraine: Pro-EU protest pin-up calendar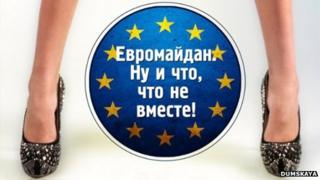 A pin-up calendar featuring scantily-clad women supporting the ongoing pro-EU rallies in Kiev has been published in Ukraine, it's reported.
The publishers are quoted as saying on Dumskaya news website that it's "chock-full of political and erotic confessions, as well as passionate declarations" addressed to opposition leaders. "In this way, the beautiful girls are expressing their attitude to what's going on in our country."
One pledges to help Kiev withstand the alleged pressure coming from Moscow. "I'll deal with Putin," Miss May vows. "He never says 'no' to gymnasts." She is referring to former Olympic gymnast Alina Kabayeva, who has been rumoured to be in a relationship with the Russian president (see also Russia's Putin announces divorce).
Miss July, wearing not much except for boxing gloves, extends her support to Vitali Klitschko, the world heavyweight boxing champion turned opposition politician. And Miss October addresses another opposition leader: "It's hot when you're around, Oleh [Tyahybok]- even on Maidan." Maidan, or Independence Square in Kiev, is the focal point for pro-EU protests, with demonstrators camping out in sub-zero temperatures for more than three weeks.
Use #NewsfromElsewhere to stay up-to-date with our reports via Twitter.