South Korea in a daze over Chinese haze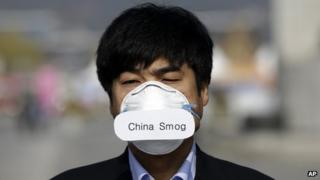 Scientists in South Korea say the country must brace itself for a bank of smog rolling in across the sea from China, it's reported.
The National Institute of Environmental Research says westerly winds are bearing a cloud laden with high levels of heavy metals such as arsenic and lead. They expect the whole country to be enveloped in what Choson Ilbo newspaper called the "new influx of toxic haze" that blanketed the western island of Baengnyeong at the weekend and went on to obscure the skyline of the capital Seoul.
Researcher Ahn Joon-young says cold weather has promoted a rise in coal-burning to heat homes in China, and expects the haze to become a more frequent problem for Korea. Warnings of the smog have sent sales of face masks soaring six-fold, along with detergents that claim to wash away bacteria and heavy metals. Dustproof windshield wipers and air filters are popular. China's official media outlets have been complaining about coal pollution for months - a sign the Communist government is beginning to take air quality more seriously (see also China: Waste heat warms polluted city).
Use #NewsfromElsewhere to stay up-to-date with our reports via Twitter.