Sudan: Anyone for cow-ear 'Sound System' sandwich?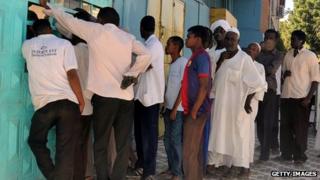 With rising prices pushing favourite foods such as falafel off the menu, people in Khartoum are devising novel names to make cheap alternatives more appetising, it's reported.
The Hurriyatsudan news website notes the emergence of a One Gigabyte sandwich in local markets - a peeled banana in a roll. It's named after the cheapest monthly internet package as it's made from the cheapest available ingredients. Another sandwich, the Sound System, is also reportedly gaining in popularity with its filling of cows' ears.
Bread is a staple in Sudan, and budget fillings help keep meal costs down at a time when food prices are rising. Some bakeries are reportedly closing down due to shortages of wheat to make flour. Wheat imports have become more difficult as a result of a foreign currency shortage.
Opposition newspapers speculate that inflation and shortages of staple foods are likely to put pressure on the Sudanese government. A recent commentary in the al-Taghyeer newspaper said: "It is not unlikely that Khartoum might wake up one day to find out that there is not a single bakery left operating. The streets will then overflow with hungry demonstrators."
Use #NewsfromElsewhere to stay up-to-date with our reports via Twitter.