Latvia: Questions over 'swastika' at ice hockey match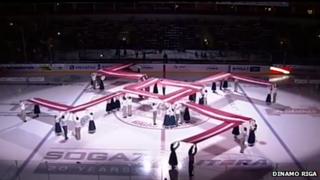 Eastern Europe's largest ice hockey league is investigating the opening ceremony of a match after a giant swastika-like symbol was unfurled on the ice, it seems.
Members of the armed forces formed the symbol at the Kontinental Hockey League match in Riga between local side Dinamo and Russian team Yugra Khanty-Mansiysk, the Sport.ru website reports. KHL is a Moscow-based league featuring top sides from Russia, Latvia and other east European and Eurasian states. Video of the opening ceremony shows ribbons in the colours of the Latvian flag forming geometric shapes, culminating in the swastika-like cross associated with the Nazis.
Mindful that memories of World War Two still loom large in the Russian psyche, Sport.ru describes the display as "all the more provocative ahead of a game with a Russian team". But Dinamo's press secretary Janis Stepitis says it's a traditional Latvian symbol seen in ornaments and the national costume. "It has many names, but this is not a swastika." League officials say they are checking to see if anything "criminal" occurred.
The fire cross or ugunskrusts is a traditional motif from Latvian folklore. It was used as a symbol of its armed forces before the country was occupied by the Soviet Union in 1940. In 2006, local craftspeople were asked not to include it on items made as gifts for a Nato conference, in case it caused offence.
Use #NewsfromElsewhere to stay up-to-date with our reports via Twitter.