China: Gadget users 'forgetting how to write'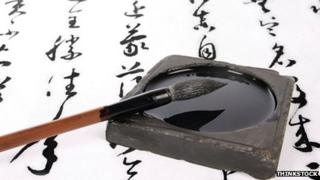 Some people in China use electronics so much, they're forgetting how to write, it appears.
State news agency Xinhua quotes "internet addict" Zhang Lei as saying she's grown so used to electronic character input, she struggles with paper and pen. The 32-year-old apparently felt "an urgent need to pick up my Chinese" after watching a game show requiring contestants to write characters dictated to them, and realising she can't remember some things even youngsters are able to write. The Chinese Character Dictation Competition broadcasts weekly on state broadcaster CCTV, with linguistic authorities serving as judges while hosts read the characters to the contestants.
On Friday, one competitor from an initial 32 teams will be crowned champion. Xinhua says the programme's been a massive success, trending on microblogging site Weibo and being replicated in schools. Government figures reportedly put the number of internet users in China at 591 million, with 1.11 billion people owning mobile phones. The show has reminded people that writing characters helps them to understand Chinese culture better, as each character has a specific a cultural connotation, Xinhua quotes one academic as saying.
Use #NewsfromElsewhere to stay up-to-date with our reports via Twitter.