Kenya: 3,000 donkeys take 'annual leave' from owners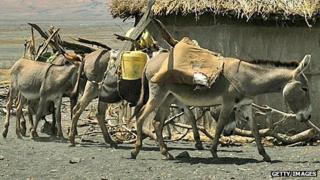 Some 3,000 donkeys in Kenya's Rift Valley leave their owners to mate and "fatten up" ahead of drought each year, it turns out.
At least that's according to a report in Kenya's Star newspaper, which describes the animals as going on "annual leave" between July and December. It quotes local official William Moile as saying donkeys in about eight localities "just refuse to listen to their masters and go to the plains to eat and make merry" before returning during the dry spell. "I grew up here and for the last 40 years nobody has questioned their habits. To us it is normal for the beasts of burden to rest," he adds.
Other elders reportedly say their donkeys are only used for fetching water from boreholes and rivers and when not "engaged in such services" they disappear. "They know their calendar and that is why nobody bothers to look for them," Moile is quoted as saying.
Use #NewsfromElsewhere to stay up-to-date with our reports via Twitter.