Japan: Babies get their mothers working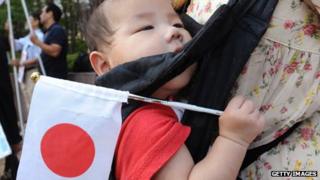 New mothers in Japan are being given the chance to get back into work by taking their babies on paid visits to elderly day care centres, it's been reported.
The Mama no Hatarakikata Oentai organisation in the southern city of Kobe sends mothers and babies into care homes in order to stimulate the minds of residents, Japan's Kyodo News Service says. Mums are paid around 2,000 yen (£13) per visit, and their work not only raises spirits but eases symptoms of age-related illnesses like dementia, it's been claimed by medical experts. Japanese women tend to quit their jobs to have families, the organisation says, and the Akachan Sensei (baby teachers) project not only lightens the otherwise drab atmosphere of care homes, but allows mothers to get back into work while helping stimulate their babies' growth through interaction with other people.
Not content with visits to care homes, the group also sends mothers and babies into schools under the "baby teachers" programme to teach pupils to appreciate the value of life. It's an idea that appears to have caught on, spreading to Tokyo, Osaka and other cities.
Use #NewsfromElsewhere to stay up-to-date with our reports via Twitter.