China: Parents divorce 'to get children best schools'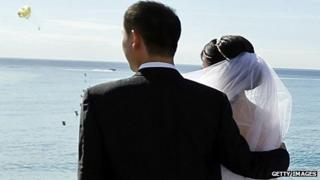 Parents in China are resorting to divorce to get their children in to better schools, it seems.
Separating reportedly allows one parent to switch address, circumventing a new ban on children attending schools outside their residential district. Meanwhile, other couples are apparently ending marriages to get around rules limiting the number of properties they can own. The issue came to a head in the city of Nanjing, where a surge in divorce applications prompted one registration office to impose a daily limit on the number it processes, writes the Beijing News. It argues: "The job of a marriage registration office is to serve the people. Divorce is a right to freedom. Restricting the number of divorces for any reason is an abuse of power."
Shen Bin, Southern Metropolis Daily legal commentator, says many people have divorced since rules limiting property ownership were introduced in March. The Nanjing-based Modern Express says there have been 18,311 divorces in the city this year - up 70% on the first six months of 2012. One mother tells the paper she divorced her husband and re-registered back to her parents' district to help her son get into a better primary school.