Possibly the loneliest bus stop in the UK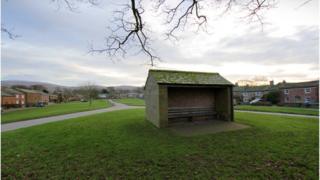 Could a slate-roofed shelter in rural Cumbria be the UK's least-used bus stop, asks Duncan Walker.
"I wouldn't expect to see anyone here, maybe the odd walker in summer, but nobody now." Bus driver Tony Carrick, who navigates the 625 service through the narrow lanes of Cumbria's Eden Valley, is right. On a rain-sodden mound in the village of Milburn - the slopes of the Pennines a brisk hike away - sits a forlorn sandstone shelter. Nobody is waiting. And this is a big day. After the 625 returns from Penrith, nine miles distant, the bus will not return for a week. Other weekly services - one funded by coffee mornings - attract a little more attention as they pass by, but locals suggest this amounts to six or seven passengers a week. Eden is England's most sparsely populated area, so the possibility that this is the UK's loneliest stop is not far-fetched.
But Cumbria has other contenders. A service between Wigton and Newton Arlosh carried 570 passengers last year - half the number on the 625 - raising the prospect of a yet more forsaken stop. Further afield, in Yorkshire, there are rumours of a stop which has never seen a bus. Across the UK the future of such services is uncertain. The Campaign for Better Transport says half of local authorities have reduced funding. Cumbria proposes cutting all subsidies and looking at alternatives where needed.
The 625, which costs the council £4,000 a year is among those threatened, but many regulars consider it essential. On the day the BBC visits all 16 seats are taken by Long Marton, a few miles before Milburn. Without it, there's no access to services like supermarkets and hospitals, says Councillor Dorothy Spence, who is campaigning to save it. There are few alternatives. Long Marton's former train station is now a holiday home, a taxi into Penrith costs £30 and a more regular bus is a half-hour trek through fields.
Back on the now-full 625, it's hoped nobody else wants a ride. But a few miles on another would-be passenger is stricken to hear there's no room. "I wanted to take my library books back," the man says, drawing bulging bags up to shoulder height. For a while this is possibly the UK's loneliest stop - where overdue fees mount until next week's bus calls. Thankfully, a car-owning husband is summoned and the books are back on time.
Do you know of a lonelier bus stop? Email us using the "Send us a letter" form on the right.
Follow @BBCNewsMagazine on Twitter and on Facebook