Paper Monitor: Express way to heaven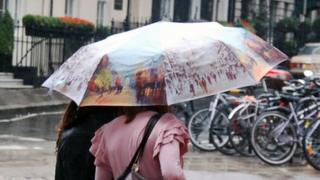 Editors at the Daily Express office must be having a field day.
Not only have they got a weather story on the front page: "Another week of rain and storms to sweep in."
But three of their other favourite subjects also create a splash.
There's one on immigration. "Migrants facing ban on benefits."
There's a health breakthrough: "Ten-minute test for Alzheimer's".
And there's even a Madeleine McCann update: "Police identify burglars as prime suspects."
Paper Monitor can't help but marvel at the way the paper continues to serve up this consistent pool of topics with such dedication.
In fact Buzzfeed's brilliant analysis of the Express's biggest obsessions - which analysed all 364 editions of the Daily and Sunday Express in 2013 - found these four subjects accounted for 50% of last year's lead stories.
Health breakthroughs and weather made up over 40% of the splashes between them, according to its study.
Other perennial favourites include Princess Diana, pensions and house prices.
Paper Monitor wonders whether the Daily Express has ever put five, six, or seven of its favourite stories on its front page.
The editors would probably take the day off in celebration.
Follow @BBCNewsMagazine on Twitter and on Facebook