Caption Challenge: Winning entries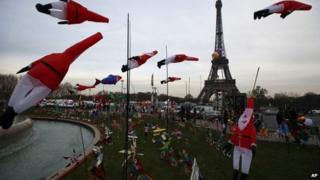 Winning entries in the Caption Challenge.
This week, kites in the shape of Father Christmas glide in the wind next to the Eiffel Tower in Paris.
Thanks to all who entered. The prize of a small amount of kudos to the following:
6. Tim Heath:
The Paris angling club regret their decision to try using mince pies as bait.
5. David Bowler:
The Santas, my friend, are blowing in the wind.
4. Robandav:
Doctor, I keep imagining I'm in Paris watching floating Santas and wanting to throw myself into the nearest river. Am I going in Seine?
3. George:
La vie en Ho Ho Ho's.
2. Adrian Wade:
Pierre knew they weren't the real Santa, just subordinate Clauses.
1. Nick Rabin:
The introduction of a Noel fly zone over Paris this Christmas proves to be a great success.
Full rules can be seen here
[16KB]
Follow @BBCNewsMagazine on Twitter and on Facebook