Paper Monitor: In praise of Scrooge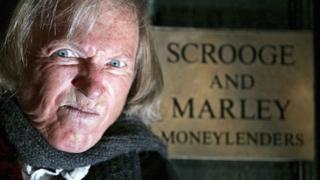 Jane Porter, head teacher at Whitehill Primary School in Gravesend, Kent, Paper Monitor salutes you.
Ms Porter has banned her pupils from talking about Christmas until December, reports the Gravesend Messenger.
Children risk losing "golden time" if they discuss the festive season "prematurely". One parent has condemned the policy as "wrong and immoral".
Paper Monitor, however, is fully behind the head teacher, and is planning to institute a system of "golden time" at Magazine Towers so it can be withdrawn whenever a colleague mentions "ironic" seasonal knitwear or the Doctor Who 25 December special.
Once Paper Monitor works out exactly what is "golden time", that is.
If only someone would apply such sanctions to newspapers, the world would be a happier place.
In the Daily Telegraph, Jane Shilling proclaims how much she prefers picking up bargains in charity shops to making purchases online.
"Whether I'm buying for myself or shopping for Christmas presents, I can't seem to shake off the primitive hunter-gathering instinct that revels in leaving the house empty-handed, only to return some hours later with the 21st-century equivalent of a good day's hunting," she trills.
Paper Monitor could not be more different.
At 18:00 on Christmas Eve, this columnist will be in the petrol station, frantically throwing air freshener and WD40 into a shopping basket. Same as last year.
Bah humbug.
Follow @BBCNewsMagazine on Twitter and on Facebook