Paper Monitor: Goodbye monkey-puzzle man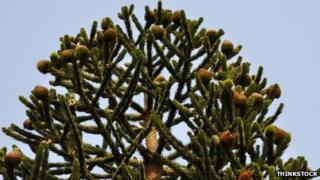 Paper Monitor is feeling sad. The Guardian's front page has the news that the paper's cryptic crossword setter Araucaria has died.
He had announced his cancer in January - naturally, in a crossword. He said he had 18 down of the 19, being treated with 13-15. "Cancer", "oesophagus" and "palliative care".
Today's 18 down - given away on the front page (Paper Monitor couldn't work it out) - said timetogo.
A tear rolled down Paper Monitor's cheek.
Araucaria (named after the monkey puzzle tree) - whose real name John Graham - was such a fiendish wordsmith that his lovely smiling face came as a bit of a surprise. Paper Monitor had expected him to look much more cunning.
The Guardian remembers some of his finest clues.
Of of of of of of of of of of (10) - oftentimes. So clever.
Semi-automated nun? (8,2,5) - a creature of habit. Sublime.
Who else will be able to make Paper Monitor feel that warm glow of smugness that comes only with solving one of his cryptic clues? Or the more usual crushing frustration that comes with not having a clue.
Goodbye Araucaria. It's a sad day.
Follow @BBCNewsMagazine on Twitter and on Facebook